In 1988, Vietnamese entrepreneur Duong Chi Kien was sent to study in Russia by the Vietnamese government. After graduating, he chose to stay in Saint Petersburg, where he still resides today. He is currently the CEO of Golden Age Group, Russia. In 2020, he was awarded the Golden Lion Award in the field of international and interregional cooperation by the Saint Petersburg Foreign Affairs Committee, as well as the Certificate of Merit by the Chairman of the Saint Petersburg Legislative Assembly,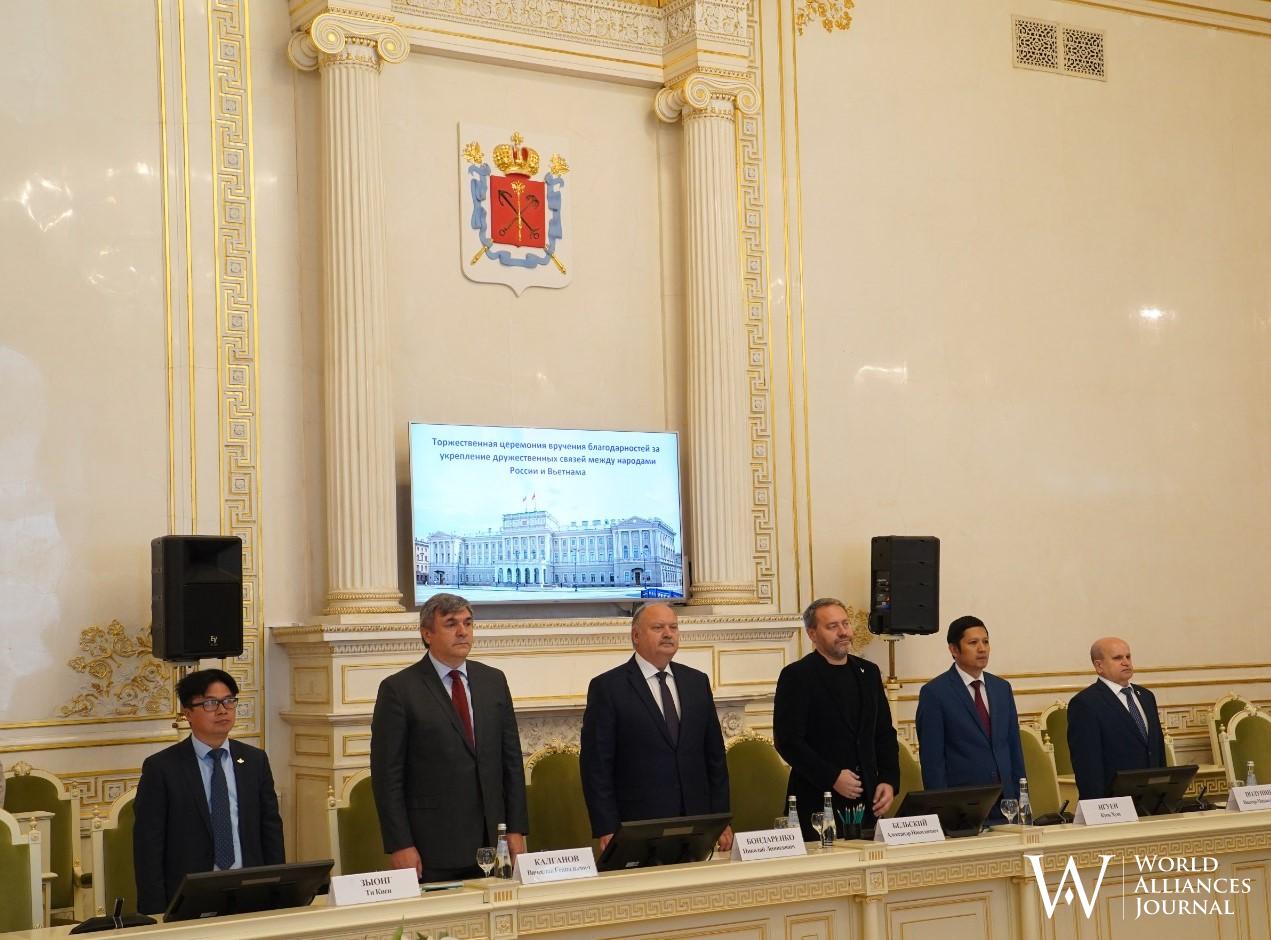 Entrepreneur Duong Chi Kien as awarded the Certificate of Merit from the Chairman of the Saint Petersburg Legislative Assembly, Russia (October 2023). Photo: author provided
Dr. Yen Platz: As one of the outstanding representatives of the Russian business delegation attending the 12th European Vietnamese Business Conference this year, can you share your thoughts on that?
Duong Chi Kien, General Director of Golden Age Group (Russia): I am delighted, honoured, and proud to see the 12th European Vietnamese Business Conference organised on such a grand scale, with the full participation of many business delegates from 19 countries, as well as business delegations from Ho Chi Minh City, Nghe An, Ha Noi Lawyers Association, and the High-Level Delegation of Ha Tinh Province. The programme is highly practical, allowing us, Vietnamese entrepreneurs, to interact, exchange experiences, and share ways to overcome obstacles and turn obstacles into opportunities for mutual progress.
Dr. Yen Platz: According to you, what is the biggest achievement of the Conference?
General Director Duong Chi Kien: We are proud to be present at this Conference. We all share the thrill of meeting Vietnamese people in a distant place, no matter where we go or how long we have been away from home, whether we are from old or young businesses. We are all Vietnamese people, regardless of political situations or socioeconomic systems. We work and live together while adhering to the rules of the host country, the world, and economic agreements. We collaborate to grow our businesses while also supporting Vietnam by bringing Vietnamese goods to global markets, increasing export earnings, creating more jobs for Vietnamese people, and contributing to Vietnam's international standing.
Each business, country, and society has its own distinct qualities, but everyone is quite pleased. Every company is attempting to meet its commitments and responsibilities to its employees. (I see there are a lot of Vietnamese employees here). We also work hard to improve the lives of our employees and their families. When we do this, it not only benefits our businesses, but it also benefits Vietnam: First, it creates jobs for Vietnamese workers. We understand that every worker who goes abroad faces numerous challenges, and they all seek solid jobs to support their families back home. Second, persons from affluent backgrounds frequently join in fundraising drives to send money back to their home country. In this spirit, I much value the practical importance of this conference. At the same time, we recognise our future responsibilities and recognise that we must do better.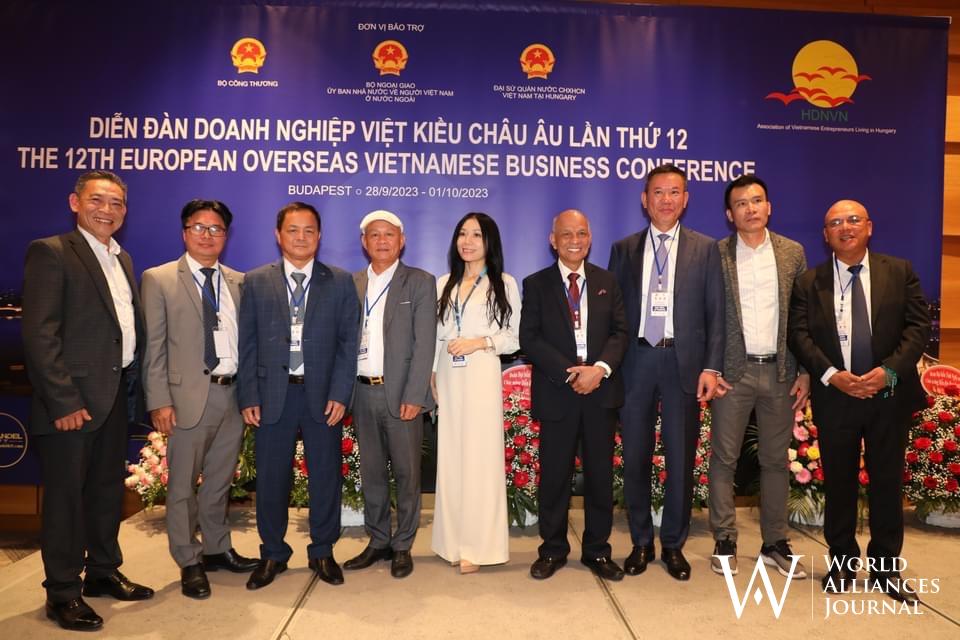 Entrepreneur Duong Chi Kien ( 2nd from the left), along with a delegation of Russian businesses, attends a forum in Hungary. (Photo provided by the organizing committee)
Dr. Yen Platz: We are aware that you were awarded the Golden Lion Award in the field of international and interregional cooperation by the St. Petersburg Foreign Affairs Committee in 2020, and the Certificate of Merit from the Chairman of the Saint Petersburg Legislative Assembly in October 2023, for your positive and effective contributions to the development of St. Petersburg's foreign relations with foreign and regional partners.
General Director Duong Chi Kien: Generally speaking, I am a lucky person. This good fortune is also owing to my parents' words: "When you go there, try to work hard and study, and try to help others." My blessings, I believe, are not always made by me, nor are they created because I am talented; rather, they are the blessings of my parents and the entire family, lineage, and ancestors.
Dr. Yen Platz: How is Russia now?
General Director Duong Chi Kien: In retrospect, I perceive that my working process has been inextricably related to Russia's development in a variety of ways. There were many new and unexpected things starting when Russia was broken up, but luckily we had been educated, understood the language and culture, and had many Russian friends, so we were able to swiftly adapt into Russian society. We have tried to take advantage of these chances, develop our own enterprises, and help others with the spirit of a Vietnamese person, a person from the underprivileged region of Ha Tinh.
My company is currently involved in several fields, and employees from both Vietnam and Russia work in each of these fields. To date, our company has two generations of Russians, Russians who work here and marry and have children (as do the Vietnamese). We regard the company as a family. Our responsibility is to do everything we can to help the connection of Russia and Vietnam develop further, to help Russians and Vietnamese love and understand each other more, and to help them remember their hometown.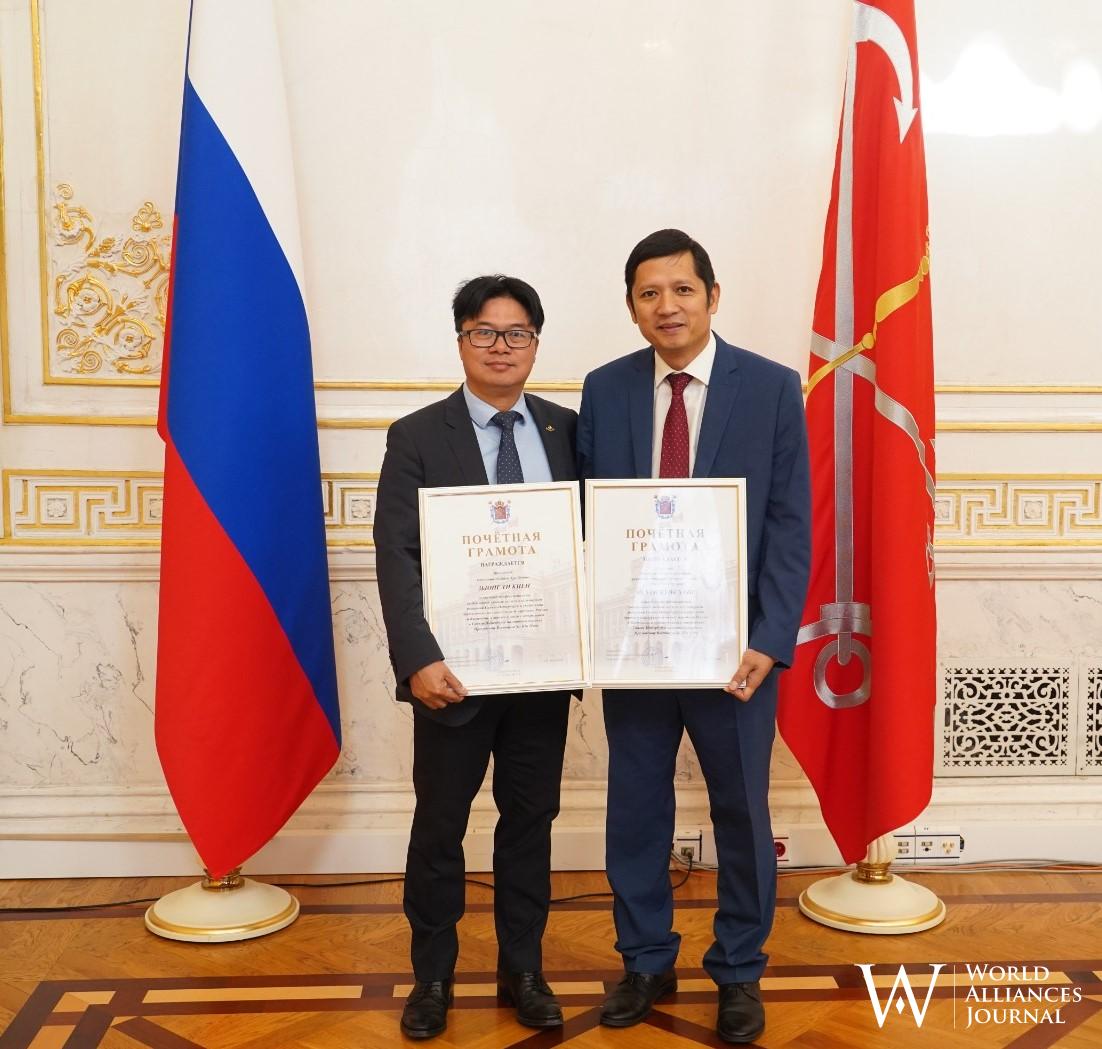 Entrepreneur Duong Chi Kien (left) and Dr. Nguyen Quoc Hung receive a Certificate of Merit from the President of the Saint Petersburg Legislative Assembly, Russia (October 2023) (Photo provided by the author)
Dr. Yen Platz: So, how do you see the position of Vietnam in Russia today?
General Director Duong Chi Kien: I think that the position of Vietnam has been significantly improved in Russia in recent years. I have a few thoughts on this: (1)The path of the Vietnamese people from slavery to independence, led by Uncle Ho (like a saint), and supported by friends from around the world, has now been achieved. Uncle Ho was a leader who dedicated his life to the people, sacrificing himself for their sake. (2)The image of Uncle Ho in Russia - a country with vast resources and many talented people, but lacking the same ideals as Uncle Ho - has led Russia to learn from Vietnam. They have learned the image of Uncle Ho to honor Vietnam and Uncle Ho. That is why in our city they are very supportive of the placement of the Ho Chi Minh statue, as a role model for the Russian people. We, Vietnamese entrepreneurs were overjoyed this. We have finished the processes to request permission from the authorities of the two nations to erect a statue of Uncle Ho here to commemorate the 100th anniversary of Uncle Ho's visit in Russia to seek a means to save the country. We were able to place the Uncle Ho monument after four months of completing several procedures. This location is now a tourist attraction, serving as a symbol of the Vietnamese people in Russia. Our children come here frequently to pay their respects, remember Uncle Ho, the day of national independence, and Vietnam. (3)The special thing that makes us very proud is that, despite the fact that Vietnam is a less developed country than Russia with a long history, the fact that such a vast country is eager to learn from us is very moving and grateful to us.
PROMOTED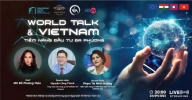 The global economy is evolving rapidly, presenting enticing investment prospects for businesses. Multilateral investment, driven by market and country collaborations, enables businesses to tap into multiple markets, leveraging interconnections for profit optimization and sustainable growth.
Dr. Yen Platz
Writer To Hoai is famous for his book De Men Adventure Ky (1941) written for children. Currently, "Crickets" have traveled all over the world. The story has been translated into many languages and published in many countries around the world. He is likened to the Andersen of Vietnam.
WAJ
At first glance, she doesn't stand out when standing next to her Asian girls, I become more and more in the middle European women. Yet, people like look at you, especially like to peek, every time you say, or every time she laughs. Asian-style face Dong, round black eyes that can talk, the corner of his mouth when also fresh. Long, silky black hair, clear voice, Standard and flexible pronunciation even when I speak the language German and Vietnamese.
WAJ
READ MORE