In a turbulent world marked by the pandemic and conflicts like Russia-Ukraine and Palestine-Israel, the global Vietnamese community must unite. Peter Hong, a Vietnamese-Australian businessman and Vice Chairman of the Business Association Overseas Vietnamese (BAOV), discusses his efforts to connect Vietnamese entrepreneurs worldwide, serving their communities and homeland, Vietnam.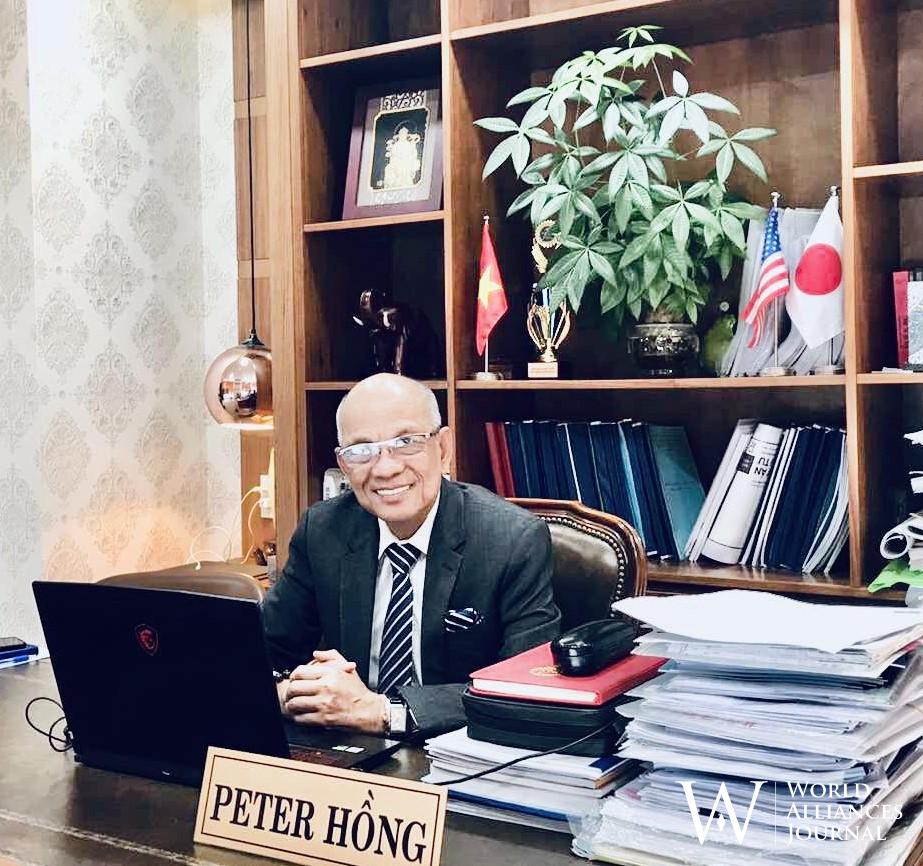 Peter Hong, Vice Chairman and Secretary General of the Business Association Overseas Vietnamese (BAOV), Photo: BAOV)
Dr. Yen Platz: BAOV is a renowned professional social organization for Vietnamese people both inside and outside of Vietnam. Could you please provide a brief history of the organization?
Peter Hong, Vice Chairman of BAOV: The Business Association Overseas Vietnamese (BAOV) was established in 2009 in response to Communist Party of Vietnam Resolution 36. Pham Nhat Vuong, an entrepreneur who is now one of Asia's leading billionaires, was our first chairman. He was successful in bringing together entrepreneurs from 12 and later 20 countries and territories throughout the world, largely from Eastern Europe at the time. The leadership was then turned over to entrepreneur Nguyen Canh Son, Chairman of the Board of EURO Window in Russia, from 2009 to 2012. Three years later,this position was transferred to Dr. Nguyen Thanh My, a Canadian overseas Vietnamese who is currently involved in construction and investment in Tra Vinh province. He is a highly accomplished scientist with over 500 patents, contributing to the scientific and economic development of Vietnam. In my role as the Vice Chairman, I assist and support Dr. My in his responsibilities.
BAOV was created by a resolution of Vietnam's Ministry of Home Affairs. We are now receiving assistance from the State Committee for Overseas Vietnamese Affairs, which is part of the Ministry of Foreign Affairs. It has 400 members from 40 nations and territories. In the near future, we intend to develop our membership network in additional nations across the world. Its mission is to connect Vietnamese entrepreneurs around the world, facilitate trade and cooperation, and, most importantly, to carry out Prime Ministerial Resolution 1797, which focuses on how to promote high-quality Vietnamese goods for consumption by the global Vietnamese community.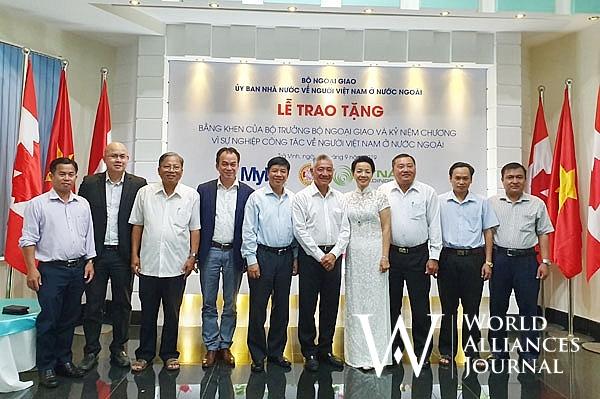 The awarding ceremony of the Certificate of Merit from the Minister of Foreign Affairs to Dr. Nguyen Thanh My, former Chairman of the BAOV (the 5th from the right) (2019) (Photo: BAOV)
Dr. Yen Platz: Can you tell me about the preparations for the 4th Conference of BAOV scheduled to take place in Ho Chi Minh City, Vietnam, at the moment?
Vice Chairman Peter Hong: Our Executive Committee has established a plan and is presently undertaking several operations with the guidance and cooperation of the Ministry of Foreign Affairs and the approval of the Ministry of Internal Affairs of Vietnam: Sending official letters to Vietnamese diplomatic missions around the world to inform and promote BAOV, as well as inviting leaders of associations, organizations, and businesses of Vietnamese origin around the world to join the Executive Committee for the 2023–2028 period. The objective is to revitalize the Executive Committee while emphasizing the importance of quality and guaranteeing continuity and progress. Members of the Executive Committee should be role models, with good health, dedication, and considerable expertise in community activities, as well as the ability to mobilize the public. They should also have economic potential, credibility, and influence both domestically and internationally. To promote the seamless performance of their duties, the 2023–2028 term includes two autonomous positions: Permanent Vice Chairman and Secretary-General. In the forthcoming term, the leader of BAOOV must be a member or part of an organisation approved and endorsed by the Central Committee of the Fatherland Front of Vietnam.
Furthermore, it is actively pushing communication activities and organising subcommittees (content, people, logistics, reception, ceremony, etc.) to ensure that the Congress is organised in accordance with the regulations. Furthermore, there is a focus on improving coordination and support for related associations in order for them to efficiently organise trade promotion events, investment forums, and economic forums.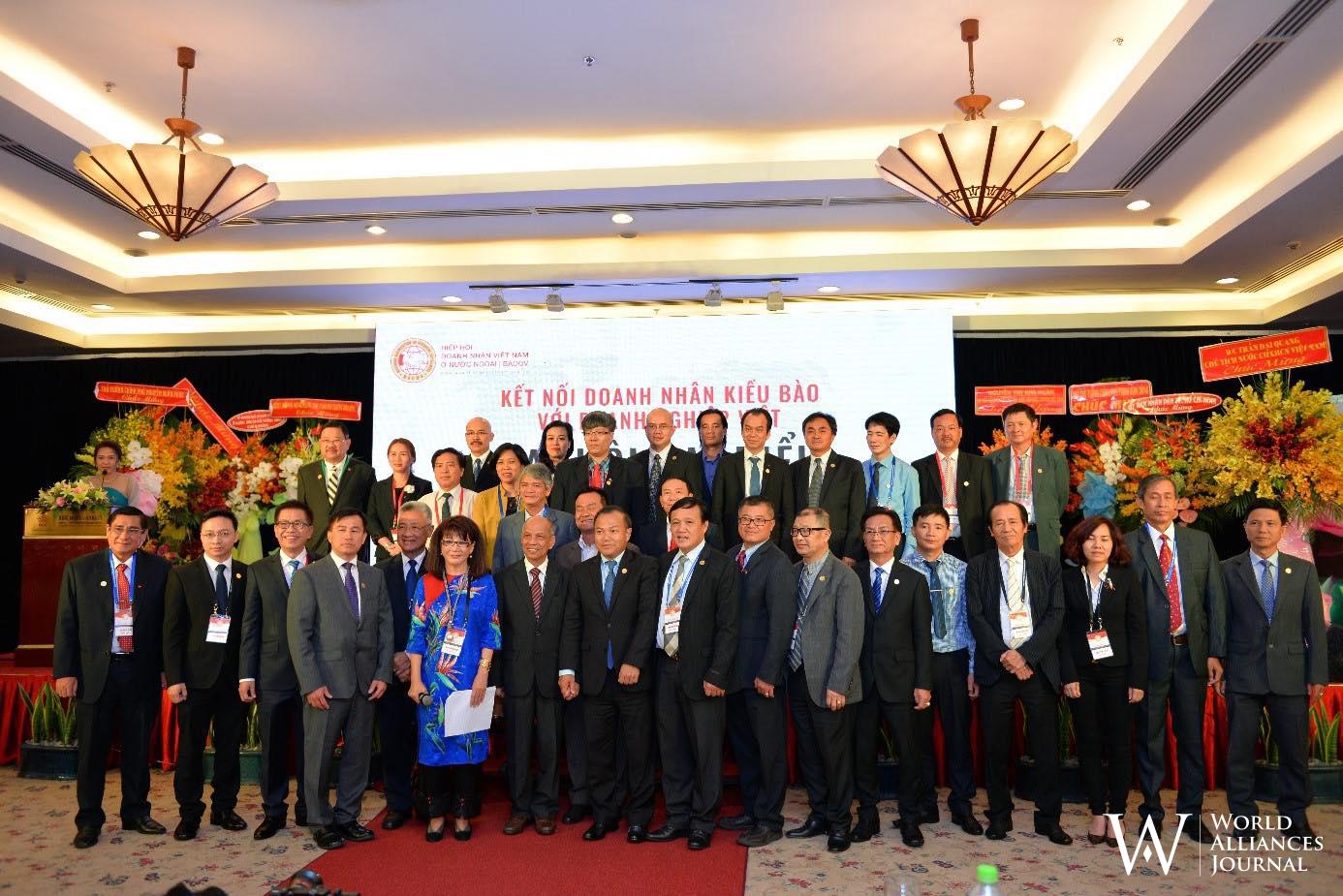 The BAOV organizes its 3rd Representative Congress (2018-2023 term) (Photo: BAOV)
Dr.Yen Platz: You've just returned from Europe, from the 12th Overseas Vietnamese Business Conference in Europe. Do you have any comments on this year's forum?
Vice Chairman Peter Hong: During the two days we attended the conference, there were businesses from over 19 countries and territories in attendance. Among them were more than 100 businesses from Vietnam, and there were two representatives from the two large provinces in the Central Region, Ha Tinh and Nghe An. The conference featured 19 presentations, and all entrepreneurs expressed their desire to find ways to invest and connect with their businesses in Vietnam. This is a regular practice, but it holds significant meaning in the post-COVID-19 era. Therefore, the Vietnamese Business Association Abroad will always accompany Vietnamese businesses in Europe.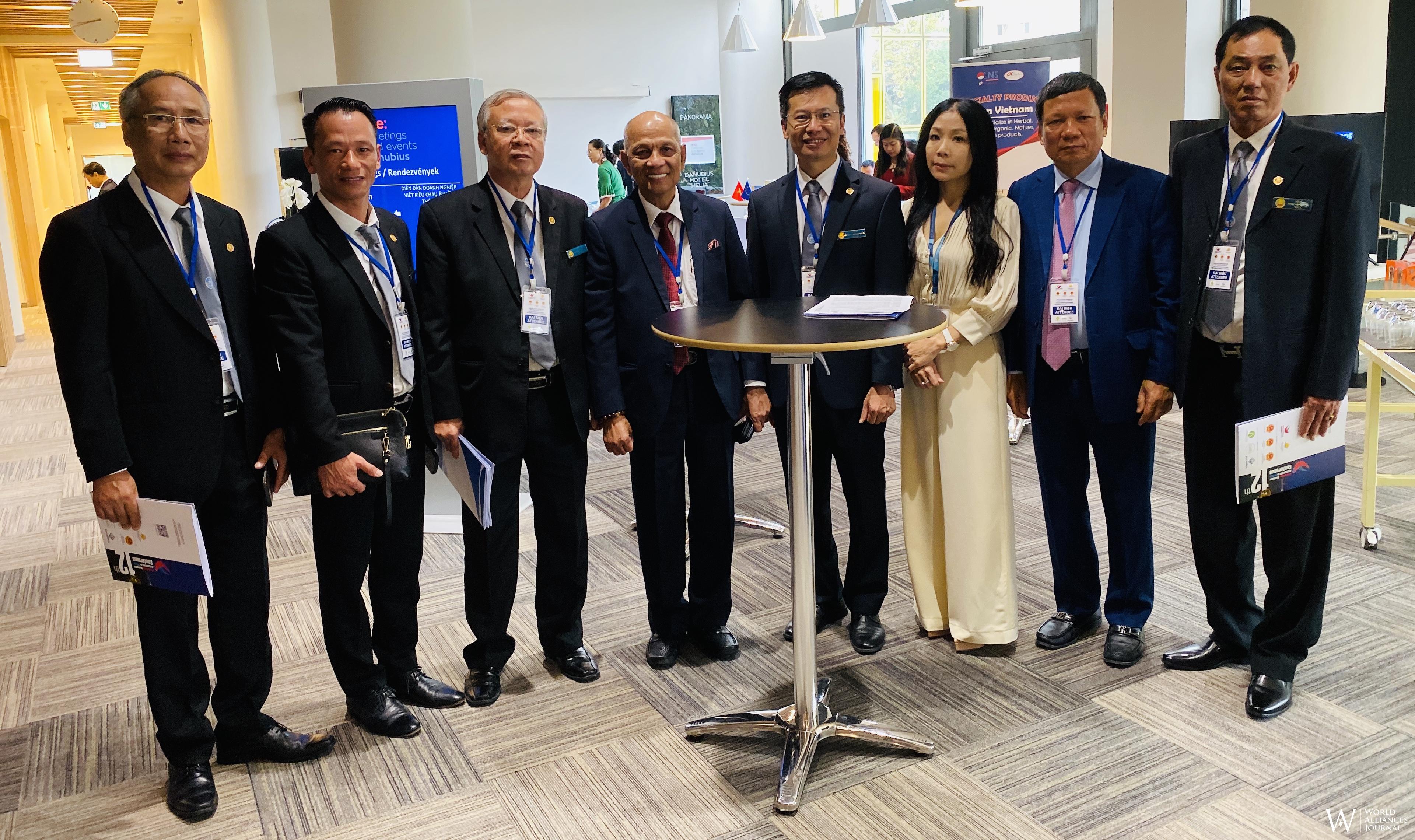 Entrepreneur Peter Hong (4th from the left) in discussion with the Hanoi Lawyers Delegation participating in the 12th European Vietnamese Business Conference in Budapest, Hungary (September 29th–October 1st, 2023)
Dr. Yen Platz: At the conference, you mentioned the establishment of the Billionaire Club. Could you please share more details about this?
Vice Chairman Peter Hong: When we were working with some significant overseas investors intending to invest in Vietnam about six years ago, these entrepreneurs conveyed their conviction that Vietnam, as a developing country, needs the skills and resources of affluent individuals and billionaires from other countries. These individuals were driven by a strong desire to contribute to and support Vietnam in a variety of ways, particularly in the realms of trade and business, such as the construction of industrial zones that would provide employment possibilities for the Vietnamese people. At the time, these business owners voiced a desire to establish a billionaire club. Coincidentally, at that time period, Vietnam saw an influx of investors from numerous countries and areas. Our association had the ambition to collaborate with these individuals to promote their investment in Vietnam. Now, all of them have successfully invested in Vietnam and are eager to give back and support the country.
Ho Chi Minh City recently hosted the "Ho Chi Minh City Economic Forum 2023: Green Growth and Net Zero Initiatives". I took the initiative to call some colleagues and entrepreneurs, and we were fortunate to have 9 billionaires from five countries, including Malaysia, the United States, China, Saudi Arabia, and Bangladesh, join. Following the event, we organized a meet and greet to present the association's goals and invite these businesses to join the Billionaire Club. They eagerly accepted the invitation. They want to return to Vietnam for a second visit around the Lunar New Year, when they will be able to engage with the association to offer some potential investment projects.
Dr. Yen Platz: Many successful billionaire clubs exist around the world, including M1NT Club in London, United Kingdom; 33 Club in New Orleans, California, USA; Yellowstone Club in Montana, USA; White's Club in London; Soho House Club; Hurlingham Club in the United Kingdom; and others. The Vietnamese Billionaire Club hopes to collaborate and create links with these notable clubs in the future. During the 12th Overseas Vietnamese Business Conference in Europe, you also shared some valuable insights on passing down the spirit of entrepreneurship to the younger generation of Vietnamese. Could you please provide more details on this?
Vice Chairman Peter Hong: That's an interesting question, because it directly touches the central theme of my recent trip to Europe. To be honest, our generation in Vietnam is already in our seventies, and we are deeply concerned that we have not effectively prepared the next generation of great entrepreneurs. Just 15 days ago, I met with a team from China, the children of huge conglomerates like Alibaba, as I highlighted during the conference. They have programmes in place to equip their heirs, particularly those interested in foreign investment, to take their stories abroad and contribute to China's progress. This is a valuable lesson for me, and I am really passionate about it.
I spoke with the Executive Committee of the Overseas Vietnamese Business Association in Europe about this. We will also offer a special invitation to the descendants of your successful entrepreneurs to travel to Vietnam with their parents to attend the forthcoming 4th Congress on January 26–27, 2024. We will have a youth program, and we hope that they will join their parents in visiting the nation and collaborating with the children of successful businesses in Vietnam. Simultaneously, we will educate them about Vietnam's policies and systems, which are gradually opening up and harmonizing with international standards. As a result, no matter where they are, we hope that their offspring will eventually replace us. This is an opportunity and a beginning for us to systematically prepare for the generational transition.
The association is always open and welcoming to parents and their children. We believe that the future prosperity and strength of the country lie in the hands of the younger generation.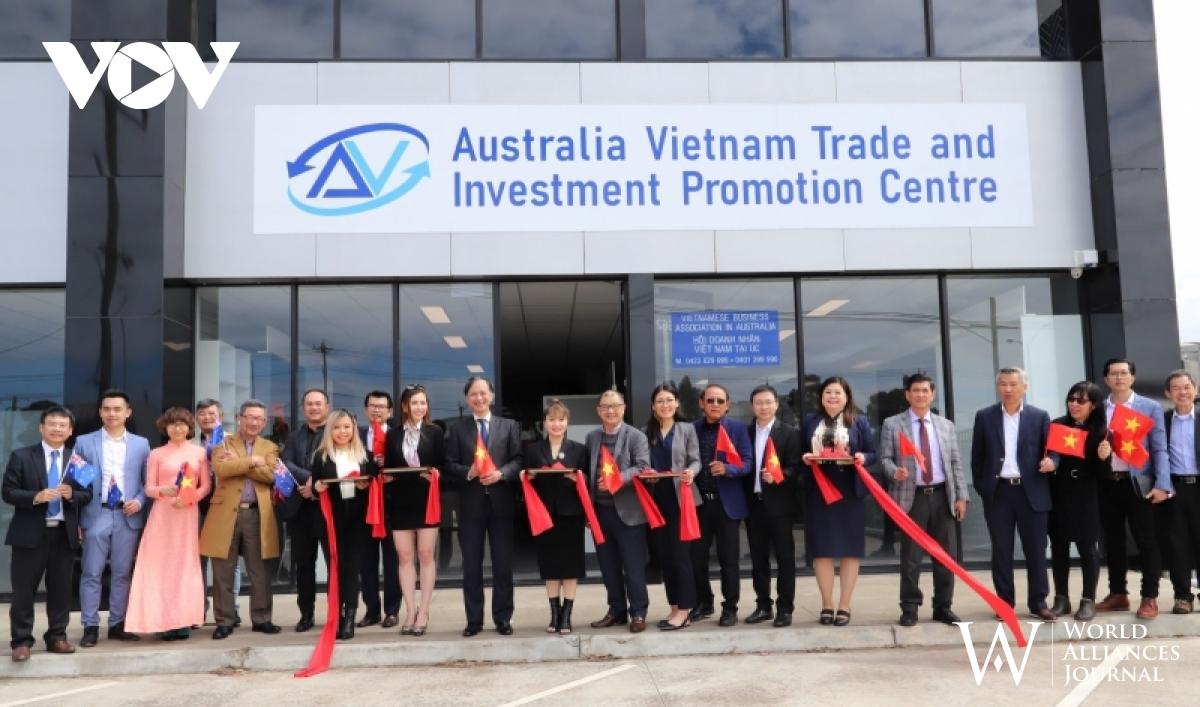 The Association of Vietnamese Entrepreneurs Overseas strives to enhance activities related to networking and promoting trade with Vietnamese business associations worldwide (Photo: BAOV provided)
Dr. Yen Platz: What do you think about the current Vietnamese young generation in Europe?
Vice Chairman Peter Hong: I believe that the young Vietnamese in Europe have been born, raised, and educated very systematically in their host countries. Observing how these young individuals are studying, working, and participating in the conference today has given me a different perspective, a very special one—a vision of bright hope for the puzzle piece of Vietnam's economic development.
In the present and the future, as these young individuals come to understand Vietnamese culture as well as the formation of our policies and mechanisms, they will find it easier to get involved. We will also incorporate this issue into the agenda of the 4th Congress in Ho Chi Minh City. After the Congress, we will organize trips for entrepreneurs and their children to visit three locations in Vietnam: the Central Region, Dalat, and the Mekong Delta. Therefore, I would like to extend a sincere invitation to the youth to come with their parents to attend the Congress and, subsequently, to participate in the "Homeland Spring" event held in Ho Chi Minh City, Vietnam.
Thank you very much! We hope that your dedication to the younger generation will be heard and supported by successful Vietnamese entrepreneurs and our descendants worldwide, all working together for a young Vietnamese generation that can compete on the international stage!
Budapest, October 1st, 2023
PROMOTED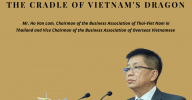 Mr. Ho Si Tuan and Mrs. Luong Thi Vi, Thai-Vietnamese entrepreneurs, found success with their VT Naem Nueng brand in Thailand. They moved to Thailand in 1945, raised eight children, and transitioned to the Vietnamese food business in 1986, which has since thrived. Their son, Ho Van Lam, now manages VT Naem Nueng and holds leadership positions in the Business Association of Thai-Viet Nam in Thailand and the Business Association of Overseas Vietnamese. WAJ had the chance to interview him.
Dr. Yen Platz
Writer To Hoai is famous for his book De Men Adventure Ky (1941) written for children. Currently, "Crickets" have traveled all over the world. The story has been translated into many languages and published in many countries around the world. He is likened to the Andersen of Vietnam.
WAJ
At first glance, she doesn't stand out when standing next to her Asian girls, I become more and more in the middle European women. Yet, people like look at you, especially like to peek, every time you say, or every time she laughs. Asian-style face Dong, round black eyes that can talk, the corner of his mouth when also fresh. Long, silky black hair, clear voice, Standard and flexible pronunciation even when I speak the language German and Vietnamese.
WAJ
READ MORE