The 45th EU-ASEAN Anniversary Summit of their dialogue partnership will be held on December 14 in Brussels, Belgium. Total EU-ASEAN trade has reached €140 billion in the last ten years. Vietnam is cited as an example among the countries making efforts to promote cooperation between the two blocs, such as France, Germany, Belgium, and Vietnam.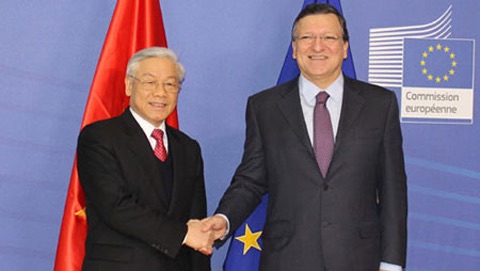 Jose Manuel Barroso Former President of European Commission met General Secretary Nguyen Phu Trong (Jan, 2013) (Photo: VOV)
After 45 years of dialogue partnership (1977-2022), EU-ASEAN cooperation is constantly developing comprehensively, with both parties committed to strengthening the promotion of free trade and positively contributing to the peace, stability, and prosperity of the two regions. That development is mirrored by a total EU-ASEAN trade turnover of €140 billion over the last ten years (2011-2021). 
EU-ASEAN will hold its first summit of state leaders in Brussels, Belgium in December 2022 to discuss trade expansion and infrastructure support as the EU seeks to strengthen ties with ASEAN. This summit is critical in strengthening the bilateral relations for promoting bilateral relations between ASEAN and EU in various fields, for world peace, and also provides opportunities for state leaders to discuss trade expansion and infrastructure support.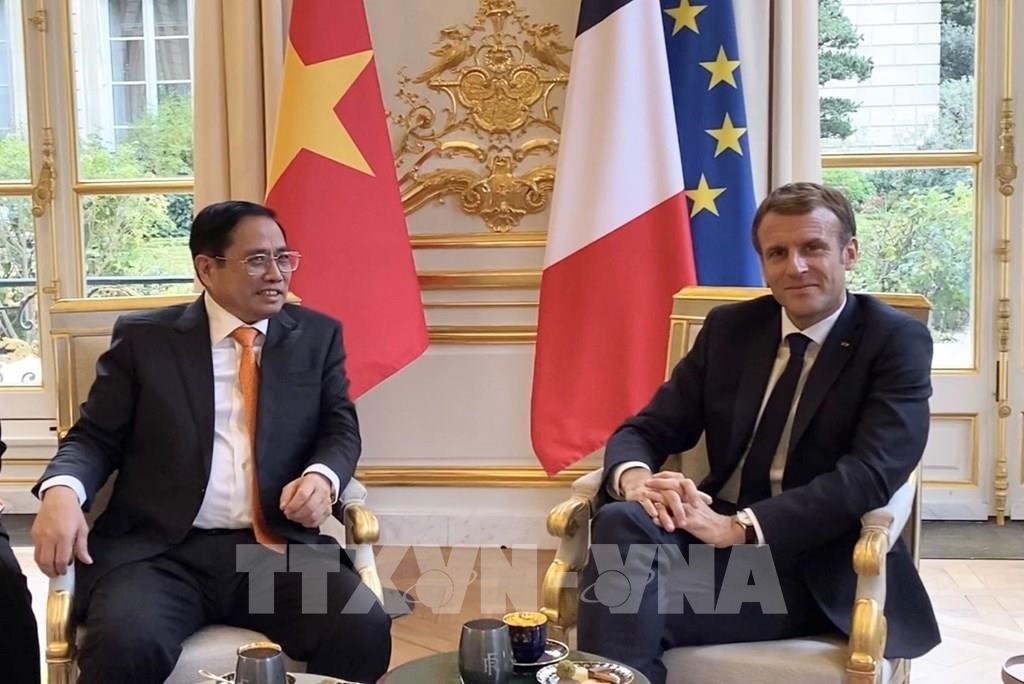 President of France Emmanuel Macron met with Vietnamese Prime Minister Pham Minh Chinh (Photo: VNA)
Vietnam has always prioritized comprehensive cooperation with the EU in its foreign policy and international integration. The diplomatic relations between Vietnam and the EU's 27 members, in particular, help to strengthen both Vietnam and the EU. Many European firms assess and choose Vietnam as an attractive investment destination. As of August 2022, the EU had 2,384 investment projects in Vietnam with a total registered investment capital of 27.6 billion USD. The EU is currently Vietnam's most important trading partner.Vietnam's relationship with the Republic of Austria is particularly noteworthy. In the 50 years since the two countries established diplomatic relations, this friendship and cooperation has grown increasingly positive (1972 - 2022). Economic cooperation becomes a pillar, bringing both countries tangible benefits.
Vietnam, in particular, has always been Austria's largest trading partner in Southeast Asia. Austria is one of Vietnam's top ten EU export markets. Austria has consistently been one of Vietnam's top EU trading partners. Bilateral trade between the two countries reached 2.3 billion USD in the first ten months of 2022.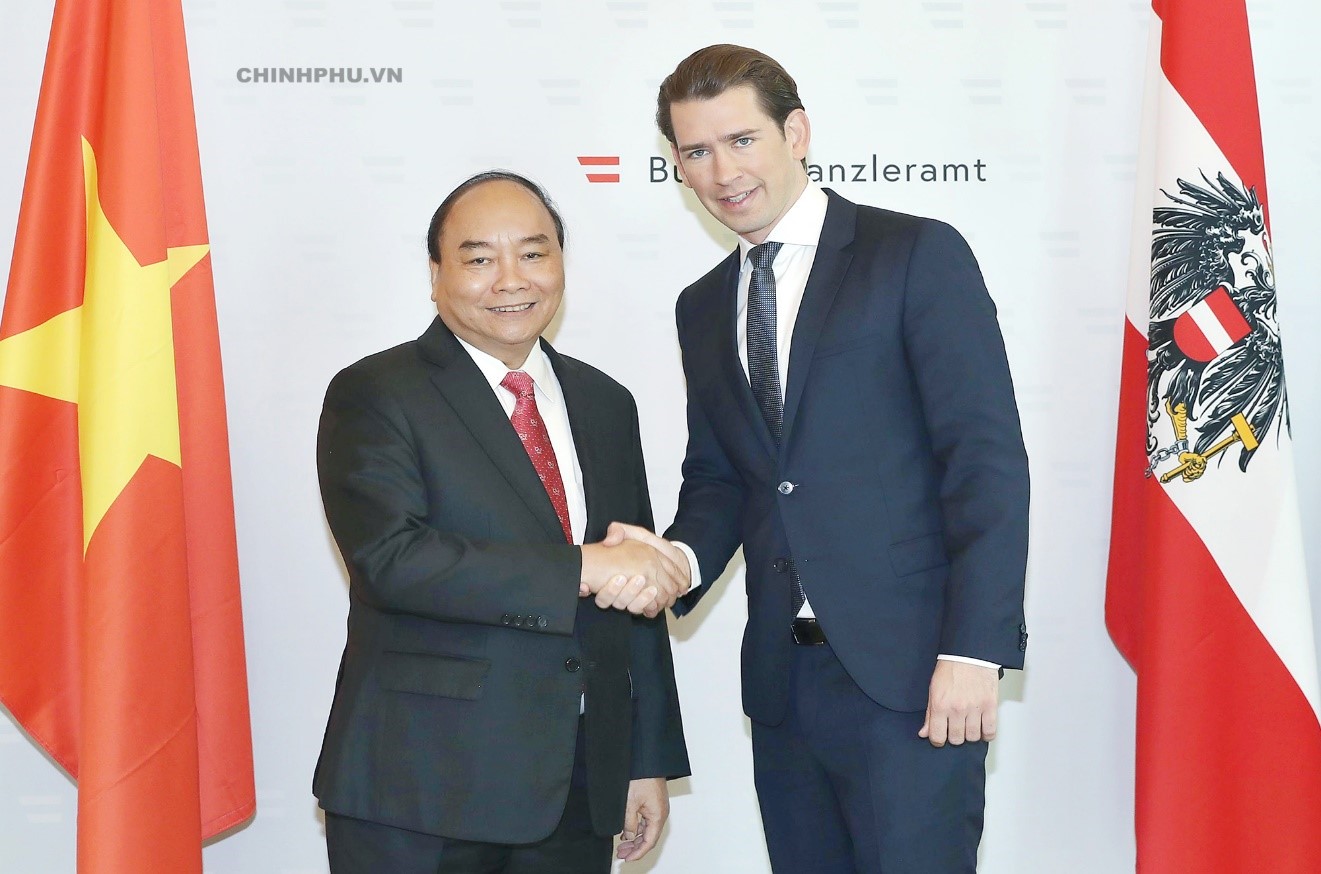 Austrian former Chancellor Sebastian Kurz and Vietnamese former Prime Minister Nguyen Xuan Phuc met in Vienna in 10/2018. (Photo: VGP/Quang Hieu)
Vietnam is increasingly demonstrating its value as a bridge, a core member of ASEAN, actively and responsibly contributing to the realization of the EU-ASEAN strategic partnership. The EU and ASEAN officially raised the level of strategic partnership in December 2020, working toward regional and global peace, stability, security, and prosperity. Vietnam consistently sends a strong message as a trustworthy international partner, ready to collaborate with the international community to address pressing global challenges. The presence of Vietnam's Prime Minister, Mr. Pham Minh Chinh, at this summit demonstrates this. Aside from the meeting, Prime Minister Pham Minh Chinh will meet privately with Prime Minster of Austria Karl Nehamer to commemorate the 50th anniversary of diplomatic relations between Republic of Austria and Vietnam.
Simultaneously, he will travel and work in Luxembourg, Belgium, and the Netherlands to promote deeper cooperation with EU member states. At the same time, he and a high-level Vietnamese delegation will visit and work in three countries from December 9 to 15, 2022, at the invitation of Prime Minister of Luxembourg Xavier Bettel, Prime Minister of the Netherlands Mark Rutte, and Prime Minister of Belgium Alexander De Croo. This is also one of the ways Vietnam hopes to strengthen and promote ever-deeper cooperation with EU Member States.
Vietnam has progressed from a country with an underdeveloped economy based primarily on agriculture to a more diverse economy with an increasingly large and balanced proportion of industry, trade, and services in the overall national economy. The startup and innovation ecosystem was formed and initially developed in response to the trend of digital transformation, digital economy development, digital society, and green economy. Vietnam's dynamic economy with the fastest growth rate in the Asia-Pacific region, with great openness, has participated in 11 FTAs (Free Trade Agreements), particularly members of the CPTPP (Comprehensive and Progressive Agreement for Trans-Pacific Partnership) Agreement, and RCEP (Regional Comprehensive Economic Partnership) will soon be an attractive investment destination for EU businesses since the EVFTA (European Union–Vietnam Free Trade Agreement) came into effect.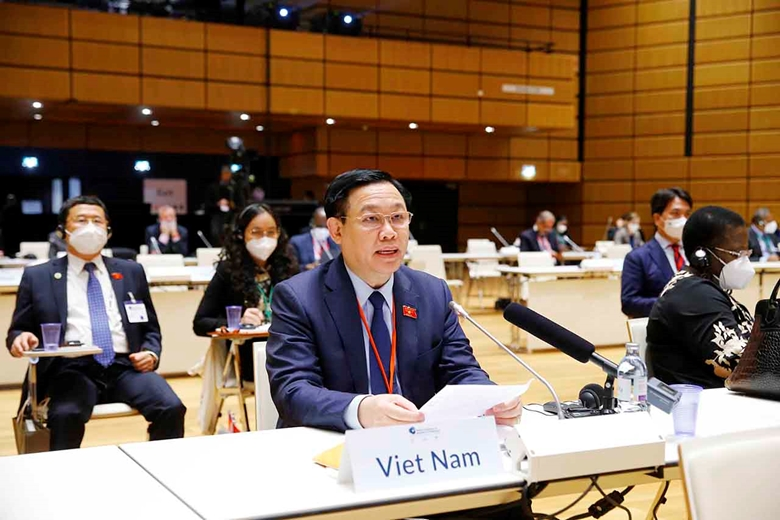 Vietnam National Assembly Chairman Vuong Dinh Hue attended the 5th World Conference of National Assembly Chairmen at the United Nations in Vienna (Sep, 2021) (Photo: Doan Tan/VNA)
Vietnam has always pursued an independent foreign policy of self-reliance, peace, diversification, multilateralization, proactive and active international integration that is comprehensive, extensive, and effective, demonstrating itself as a reliable partner and a responsible active member of the international community. Vietnam is an active member of ASEAN, APEC, and has been elected to key UN bodies. This contributes to boost Vietnam's prestige and position in the region and globally.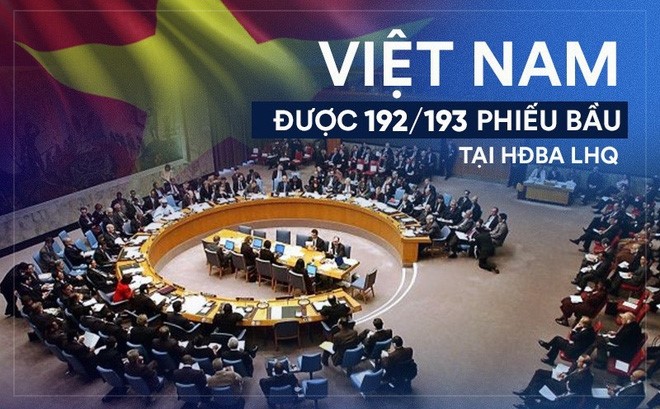 Vietnam became an official Non-Permanent Member of the UN Security Council for the second time during its 2020 -2021 tenure (Photo: Vietnam Ministry of Foreign Affairs)
With that foundation in place, Vietnam will be one of the key countries - a bridge between ASEAN and the EU - contributing to the creation of a strong incentive to strengthen the capacity of trade cooperation between the two blocs more and more effectively./.
Dr. Yen Platz (Representative of WAJ at the United Nations in Vienna)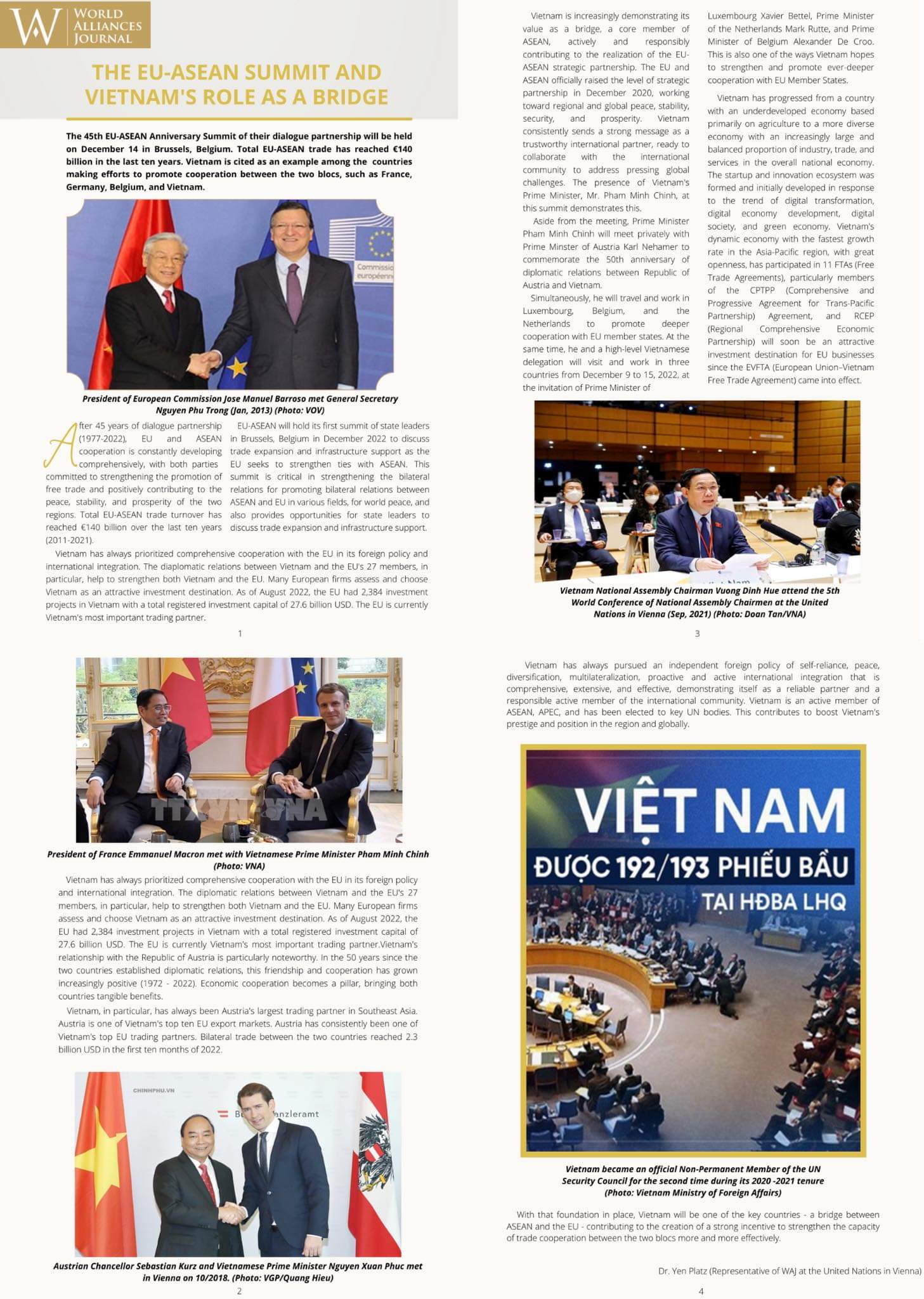 PROMOTED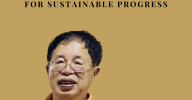 Nguyen Van Kinh, a collector of antiquities in Vietnam, is known for owning three national treasures: Kinh Hoa I Bronze Drum, Kinh Hoa Situla, and Kinh Hoa II Bronze Drum. He is actively collaborating with experts to research and document additional artifacts, which he intends to submit for national treasure recognition by Vietnamese authorities. Moreover, Mr. Kinh is deeply committed to preserving ancestral artifacts, preventing them from exporting, and safeguarding them from "bleeding" abroad.
Dr. Yen Platz
Writer To Hoai is famous for his book De Men Adventure Ky (1941) written for children. Currently, "Crickets" have traveled all over the world. The story has been translated into many languages and published in many countries around the world. He is likened to the Andersen of Vietnam.
WAJ
At first glance, she doesn't stand out when standing next to her Asian girls, I become more and more in the middle European women. Yet, people like look at you, especially like to peek, every time you say, or every time she laughs. Asian-style face Dong, round black eyes that can talk, the corner of his mouth when also fresh. Long, silky black hair, clear voice, Standard and flexible pronunciation even when I speak the language German and Vietnamese.
WAJ
READ MORE