On the sidelines of the International Atomic Energy Agency's (IAEA) 66th Annual General Meeting, Dr. Yen Platz met with Mr. Ho Huy, Chairman of Mai Linh Group, at the United Nations in Vienna to discuss atomic energy issues for global security. It is also the occasion of his business trip here to mark the 50th anniversary of Austria-Vietnam relations. Mai Linh Group, a leading transportation operator in Vietnam, wishes to convert its entire transportation system to use clean energy.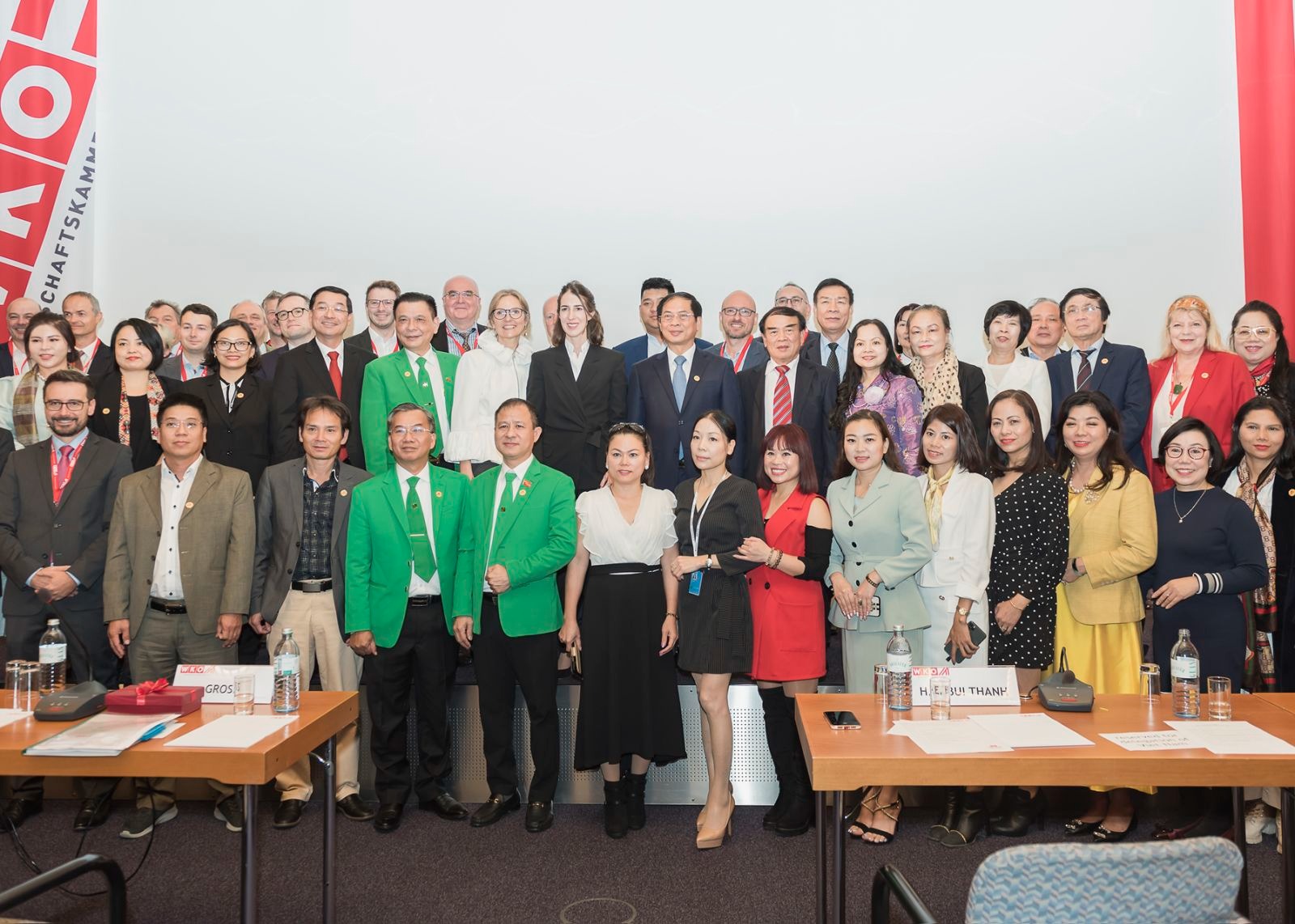 Chairman Ho Huy attended the Austria-Vietnam Business Forum 2022 (Sep 2022) in Vienna
WAJ: Can you express your feelings when you visit Vienna, the world's music capital, and stand in front of the United Nations, one of the four largest UN in the world?
CHAIRMAN HO HUY: It was a very cool autumn climate when I first arrived in Vienna, especially standing here in front of the United Nations. I imagined myself to be standing in the shared home of the world. Along with the Annual Conference of IAEA on Atomic Energy, we are currently looking for clean energy to use in our transportation, particularly in Hanoi and Ho Chi Minh City. This is crucial for both the environment and the Vietnamese people today.
WAJ: What are your plans for this business trip, especially since it coincides with the 50th anniversary of the establishment of Austrian-Vietnamese diplomatic relations with ICI International?
CHAIRMAN HO HUY: We are looking for clean energy funding in Vietnam, which is now Austria's strength. Clean energy is important in Austria, Germany, and the United States. It is also the global goal to make our world more beautiful and pollution-free. This is also a critical goal for Vietnam, and we also want to use clean fuel in big city transportation.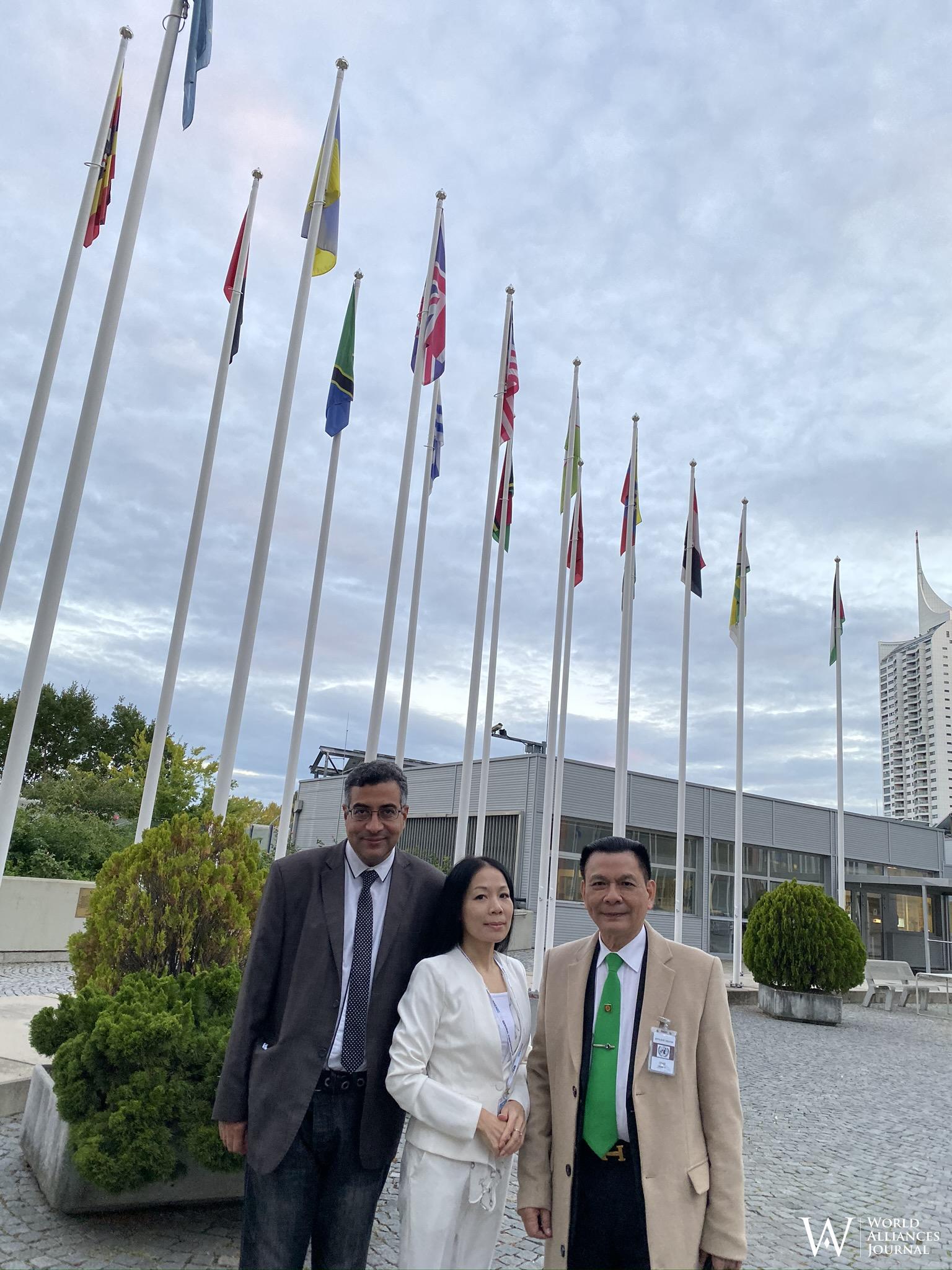 Chairman Ho Huy (on the left) was in the interview with Dr. Yen Platz (in the middle) and journalist Usama Soliman (on the right) in front of  the UN in Vienna
WAJ: Mai Linh Group is one of Vietnam's leading transportation groups, so while attending the Austria-Vietnam Business Forum in Vienna, what are your desires?
CHAIRMAN HO HUY: As the 50th anniversary of diplomatic relations between Austria and Vietnam, we are grateful for the opportunity which Vietnamese and Austrian businesses can exchange knowkedge about clean energy. On this occasion, I hope to find partners as well as Austrian government support for this issue. Therefore, we discussed with Mr. Kien, the Vietnamese Ambassador to Austria, how we will find partners for Mai Linh and other Vietnamese businesses to invest in clean energy for Vietnamese enterprises in general, and Mai Linh in particular.
WAJ: Could you please explain the significance of Mai Linh Group's green logo and how it relates to the IAEA's efforts?
CHAIRMAN HO HUY: Green is the color of life, the color of the environment in Vietnam and around the world. It is the color of the surroundings. Second, growing trees and fruits has been a lifelong ambition. After 33 years, we chose green, and the world chose green for clean energy as well as science and technology to use atomic energy in life, for peace, as cruise ship fuel, and we came very honored, especially to lead, to connect Vietnam Ancestral Global Day, which is guided by Ms. Bich Yen. This also brings together Vietnamese people, Vietnamese businesses, and descendants of the global Hung King to foster positive relationships.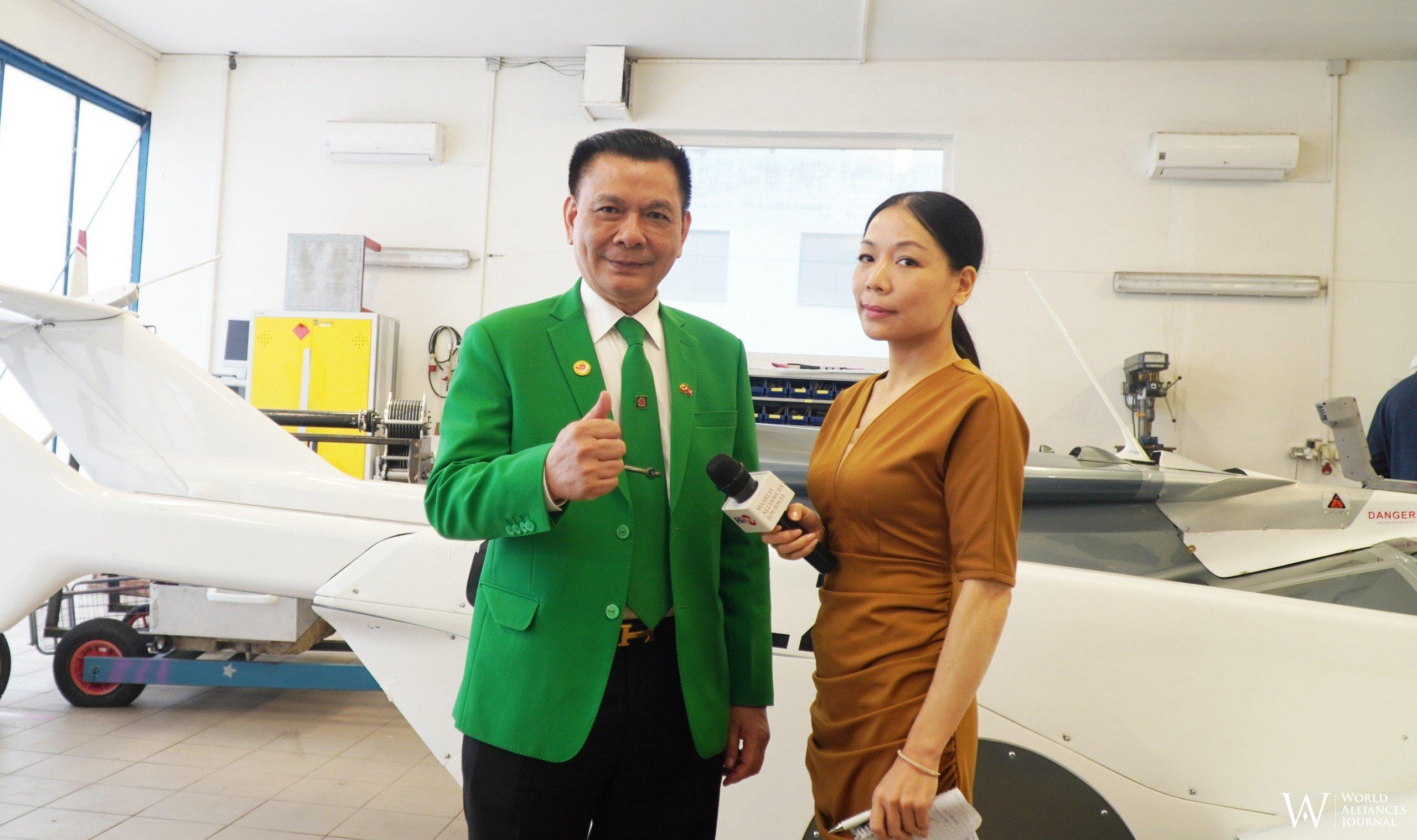 Chairman Ho Huy was on the trip to visit the first flying car prototype in Slovakia
WAJ: I recently spoke with IAEA General Director Rafael Mariano Grossi and Tran Chi Thanh, Director of Vietnam's National Institute of Energy. They were all talking about atomic energy for the ultimate goal of global peace. What do you think on the IAEA and the two men I just interviewed as the Chairman of a Transport Group?
CHAIRMAN HO HUY: In my opinion, it is mankind's dream, and love is very pure and good when we use atomic energy for the purpose of peace and the good life of mankind, and I believe those are admirable goals. We want to be able to use clean fuels like hydrogen instead of environmentally induced fuels like gasoline, especially for Mai Linh. That is the goal of the world as well as Vietnam, and Vietnamese businesses can apply clean energy and how vehicles can be used clean fuel, which is good for the environment.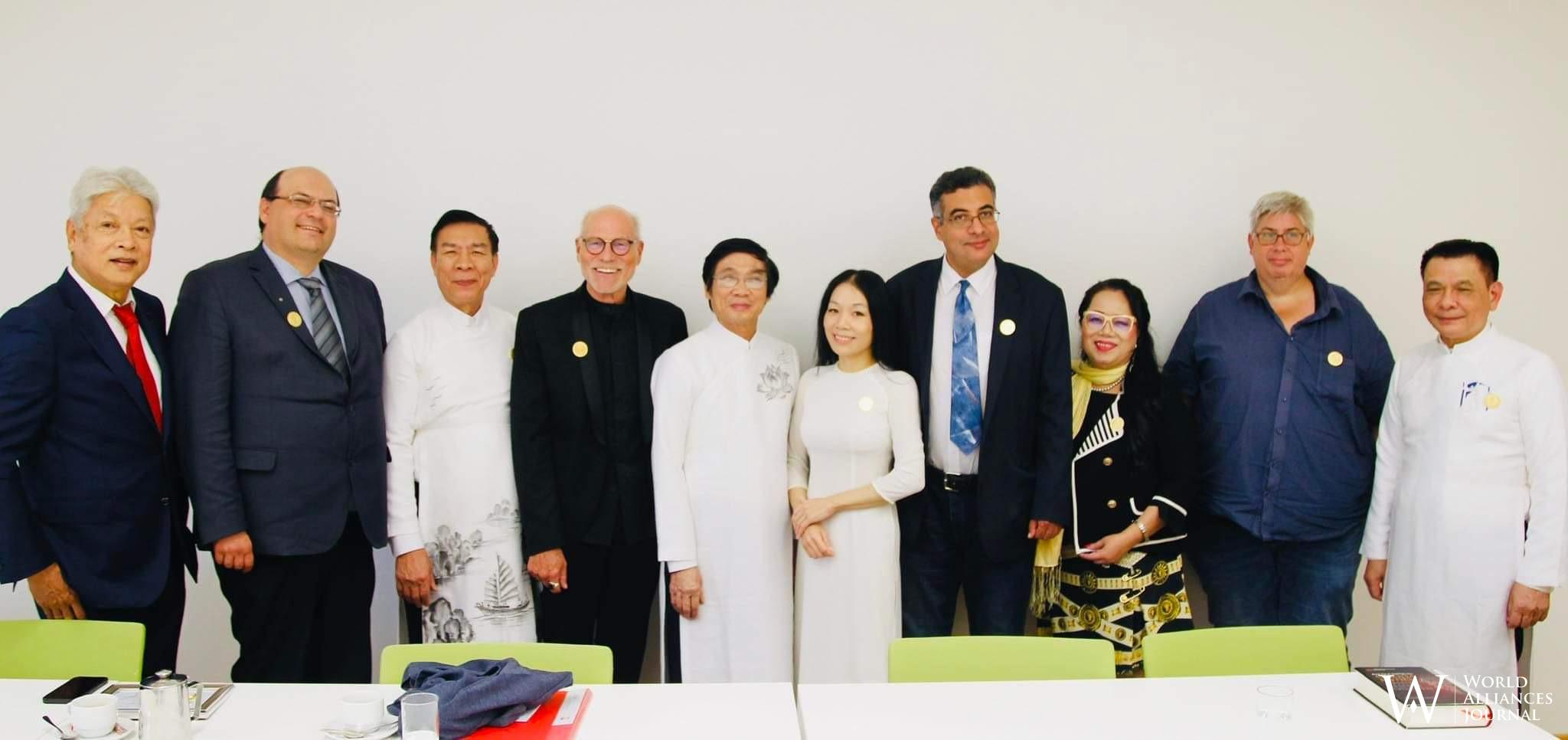 Chairman of Mai Linh Group cum Vice President of ICI International (the first person from the right) at ICI International Meeting in Europe 2022
WAJ: These days, the term "Green Economy" is frequently used in international economic conferences; do you believe Mai Linh is heading in the right direction and following the global trend?
CHAIRMAN HO HUY: I believe we had a predestination to choose green 30 years ago, and we later learned that green is the color of the environment and traffic safety. We are descended from soldiers, so green is the color of soldiers, which corresponds to the world's goal. This makes us happy and proud of when we are on of the largest transportation unit in Vietnam, and we will try to apply clean energy in transportation in serving passengers, cargo, sea, river and we have Mai Linh Express double-hull ship that serve on river, or taxi, long-distance transport. And, to be honest, using clean energy is the best thing, and it is also the goal of constant and persistent striving.
WAJ: We're conducting an interview in front of the UN headquarters, do you have any recommendations for international strategists in planning and developing the global green economy?
CHAIRMAN HO HUY: If I were a regular citizen, I would want the entire world to be clean and green, free of environmental pollution. The world's greenhouse effect is very safe for humanity. Clean energy for peace or atomic energy for peace should be developed and launched globally, according to international strategic planners. Heads of state must also adhere to this principle and work to ensure that each of our countries has clean fuel facilities for transportation, defense, and national security.
Thank you for sharings and ambitions of yours as well as the policymakers. Your ambitions are 7 billion people in the world ./.
Dr. Yen Platz (Representative of WAJ at the UN in Vienna, Austria)
Writer To Hoai is famous for his book De Men Adventure Ky (1941) written for children. Currently, "Crickets" have traveled all over the world. The story has been translated into many languages and published in many countries around the world. He is likened to the Andersen of Vietnam.
Prof. Dr. Thomas Alfred Bauer
Ms. Cao Thi Thuong (Director of Cao Hoang Trading Joint Stock Company) has constantly learned from the teacher, from colleagues, from reading specialized documents... to researching, preparing, and extracting. variety of herbal beauty products. Her company has been selected as a strategic partner for the distribution of American herbal cosmetics in Vietnam.
Prof. Dr. Thomas Alfred Bauer
READ MORE