I respect and admire many international reporters and journalists that I have met. They have extensive knowledge, coverage and influence in the international media. They seem to be a "collection" of a whole group of public objects, in the field they pursue. Their knowledge and courage truly captivated the public.
PROMOTED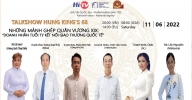 TALKSHOW HUNG KING'S 68: THE MOSAICS OF THE KING XIX – INTERNATIONAL TRADE CONNECTION AMONG ENTREPRENEURS BORN IN THE YEAR OF THE SNAKE
Prof. Dr. Thomas Alfred Bauer
Writer To Hoai is famous for his book De Men Adventure Ky (1941) written for children. Currently, "Crickets" have traveled all over the world. The story has been translated into many languages and published in many countries around the world. He is likened to the Andersen of Vietnam.
Prof. Dr. Thomas Alfred Bauer
Ms. Cao Thi Thuong (Director of Cao Hoang Trading Joint Stock Company) has constantly learned from the teacher, from colleagues, from reading specialized documents... to researching, preparing, and extracting. variety of herbal beauty products. Her company has been selected as a strategic partner for the distribution of American herbal cosmetics in Vietnam.
Prof. Dr. Thomas Alfred Bauer
READ MORE