VIENNA, 7 July 2023 — Strengthening co-operation across borders to tackle climate-related challenges and security risks took centre stage at the OSCE High-Level Conference on Climate Change, which took place at the Hofburg in Vienna on 7 July.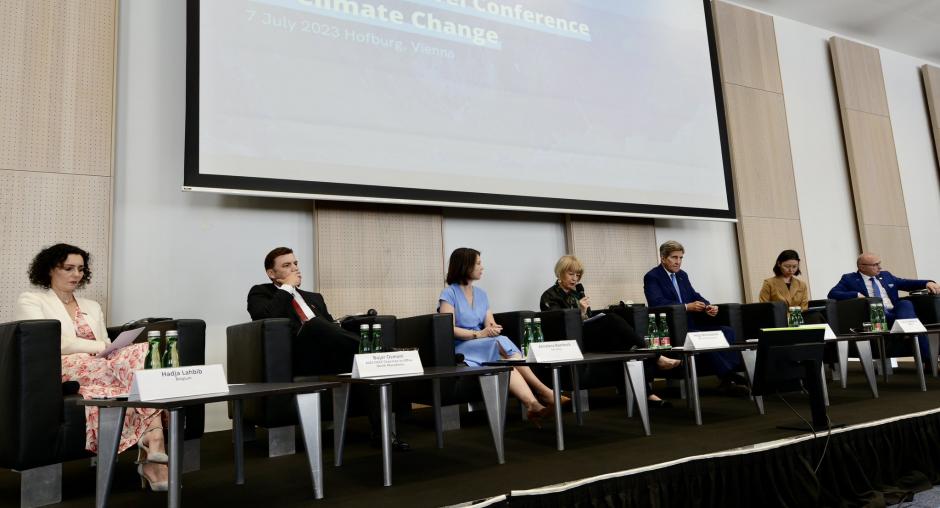 Panellists providing opening remarks at High-Level Conference on Climate Change, Vienna, 7 July (OSCE/Micky Kroell)
Ministers, climate envoys and other high-level political actors from OSCE participating States and Partners for Co-operation convened at the one-day event, hosted by the Secretary General. They discussed how participating States can work together to address these challenges caused by climate change, and how the OSCE can do even more to support these efforts. They were joined by representatives of international organizations and civil society, climate security experts and practitioners.
"From the very start in 1975, we recognized that changes in climate had implications for security," said Secretary General Helga Maria Schmid. She laid out how the OSCE's early awareness of climate challenges and its unwavering work on regional co-operation have helped to strengthen climate action, including by convening this high-level conference.
"Today we gather in a moment of great challenge across the security landscape, including when it comes to the impact of climate change. The aim of this Conference is to reflect on the work we've done and generate ideas that build on that foundation and help us take it even further," she said.
"Given the OSCE's focus on comprehensive security, it is especially worth noting that these factors are important drivers of insecurity and conflict, as well as potential triggers for migration from most vulnerable regions. It is indeed a vicious circle and we must strive towards a holistic approach to find the way out. North Macedonia, through its people-oriented approach and commitment to human security, stands ready to steer initiatives aimed at helping people face the challenges of today and tomorrow," said the OSCE Chairman-in-Office, Minister of Foreign Affairs of North Macedonia Bujar Osmani.
The event offered a platform to address specific challenges, from the impacts of the war against Ukraine on climate security and climate action to ways to increase co-operation across the region.
"As the Secretary General, I am proud of the work we do, and it has been great to hear how the OSCE's support is making a difference. But, as I said earlier today, the aim of this conference is not only to reflect on the work we do but to explore what more we should do," Schmid said.
The Secretary General shared her outlook for the future and laid out key ways to take climate action forward. These included investing in data-driven preventative and risk-informed policymaking, developing an integrated approach to addressing heightened climate vulnerabilities in conflict or crisis, mainstreaming climate considerations in the OSCE's work, and establishing an OSCE Climate Fund.
Writer To Hoai is famous for his book De Men Adventure Ky (1941) written for children. Currently, "Crickets" have traveled all over the world. The story has been translated into many languages and published in many countries around the world. He is likened to the Andersen of Vietnam.
WAJ
At first glance, she doesn't stand out when standing next to her Asian girls, I become more and more in the middle European women. Yet, people like look at you, especially like to peek, every time you say, or every time she laughs. Asian-style face Dong, round black eyes that can talk, the corner of his mouth when also fresh. Long, silky black hair, clear voice, Standard and flexible pronunciation even when I speak the language German and Vietnamese.
WAJ
READ MORE