Expert Wolfgang Renner, Wiener Zeitung Group (1703/WZ is one of the world's oldest newspapers in operation and is now a corporation), emphasizes: "Our desks are very dangerous." , go out and see what people are doing, from which there are ideas, feelings, feelings about life...".
PROMOTED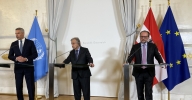 We need to build a world of respect for international law and the UN Charter, a world that protects civilians and offers them a peaceful future on a healthy planet, a world that advances human rights, a world where leaders live up to the values that they have promised to uphold, Secretary-General António Guterres
Prof. Dr. Thomas Alfred Bauer
Writer To Hoai is famous for his book De Men Adventure Ky (1941) written for children. Currently, "Crickets" have traveled all over the world. The story has been translated into many languages and published in many countries around the world. He is likened to the Andersen of Vietnam.
WAJ
At first glance, she doesn't stand out when standing next to her Asian girls, I become more and more in the middle European women. Yet, people like look at you, especially like to peek, every time you say, or every time she laughs. Asian-style face Dong, round black eyes that can talk, the corner of his mouth when also fresh. Long, silky black hair, clear voice, Standard and flexible pronunciation even when I speak the language German and Vietnamese.
WAJ
READ MORE