On September 26, 2022, the International Atomic Energy Agency (IAEA) held its 66th Annual General Conference at the United Nations in Vienna, with top representatives from 173 countries and territories in attendance, including Vietnam, which was represented by Minister of Science and Technology Huynh Thanh Dat and other experts from Ministry of Science and Technology.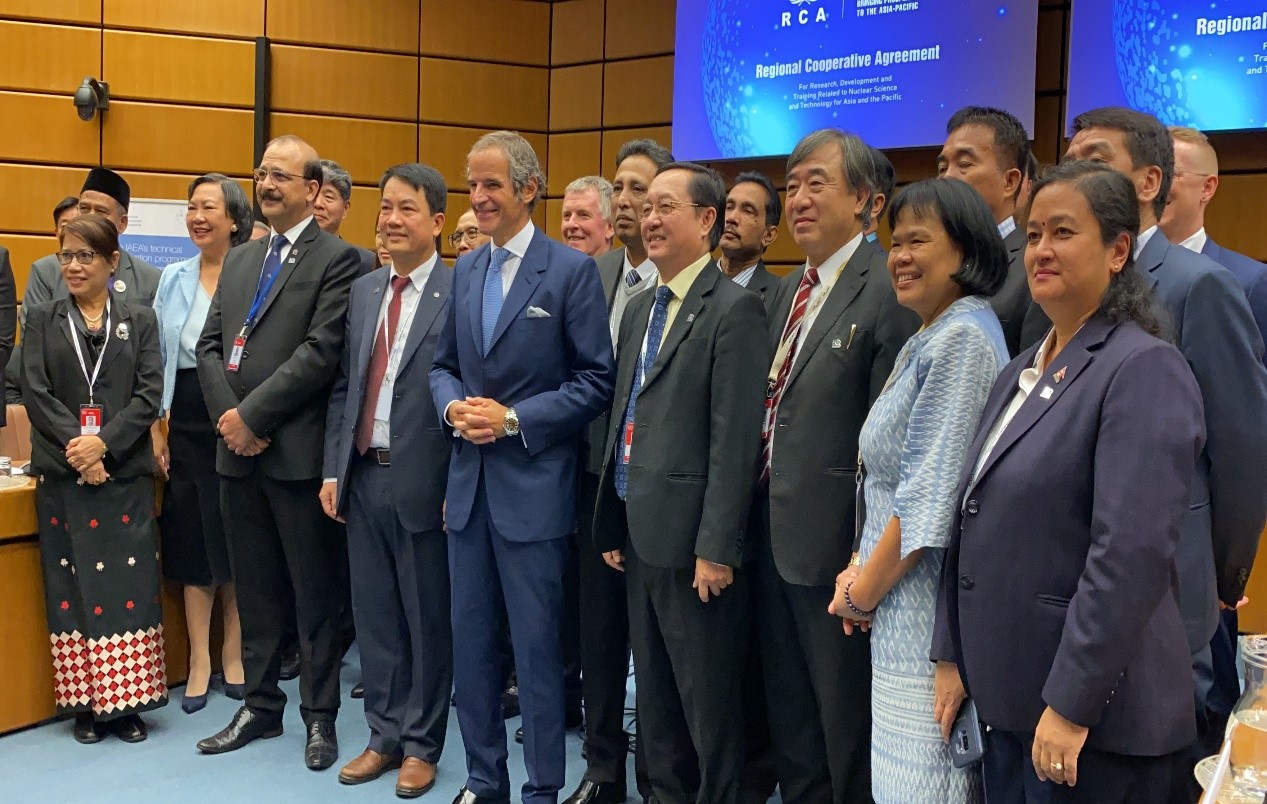 IAEA Director General Rafael Mariano Grossi (fifth from the right), Minister of Science and Technology Huynh Thanh Dat (fourth from the right), Dr Tran Chi Thanh (sixth from the right) and IAEA in Vienna (9/2022)
The 66th IAEA General Conference shared and discussed issues including IAEA's role in the advancement of scientific research, technology, and nuclear applications through technical cooperation programs, improving the effectiveness of nuclear inspection activities, and ensuring global nuclear safety. Minister Huynh Thanh Dat and other experts from Ministry of Science and Technology of Vietnam were present and made important remarks for this meeting. Vietnam is currently the Chairman of Regional Cooperative Agreement for Research, Development and Training Related to Nuclear Science and Technology for Asia and the Pacific (RCA) for 2022-2023 term. In order to learn more about Vietnam's contributions to scientific research and the application of atomic energy to the region and the IAEA, the reporter from WAJ conducted an interview with Dr.Tran Chi Thanh, Director of the Vietnam Institute of Atomic Energy, Ministry of Science and Technology of Vietnam.
WAJ: Could you please tell us about the important work that Vietnam is taking over the position of President of Regional Cooperative Agreement for Research, Development and Training Related to Nuclear Science and Technology for Asia and the Pacific (RCA) for 2022-2023 term?
The 55-year ASEAN cooperation has begun in stage 4 since 1972 with the participation of 22 countries. Because the Asia Pacific region's nuclear technology is still not as advanced as that of Europe and America; therefore, intensifying cooperation in bringing science and technology into this field is one of the most important tasks. We've been focusing on the issues for a long time. When we introduce nuclear science and technology, countries are either unaware of the nuclear source or have a low level of awareness. As a result, it is necessary to integrate nuclear science and technology into daily life, as people have done in three areas over the last 50 years. They are nuclear medicine, nuclear techniques for industry, and environment, especially human resources training.
Starting with technical training courses specializing in nuclear technology, nondestructive testing techniques, and nuclear sciences, which those countries lack or are not good at, then inviting experts from other countries, starting cooperation, and forming people-to-people projects to attract other countries to implement. In the next 50 years, plans must be accelerated the development of nuclear science and technology and to elevate regional cooperation to a new level, as well as to consider specificly larger projects, and to significantly accelerate development. It is similar to the previous period, but the scope and methods will be different, such as using existing funds and attracting additional funding sources to support human resource training.
As the President role, we attempted to start working last period to reach a cooperation agreement and develop plans for a new phase of next year, one of which is to form scholarships for human resource training. Those scholarships will be available for master's and doctoral programs in those fields. As President, we should always be the event organizer, coordinating with other countries to evaluate previous projects and form new projects, such as IAEA scholarships and ideas. We have funding, and other countries will also contribute. The IAEA will consult with Vietnam, Thailand, and the Chairs of previous and subsequent years on this matter.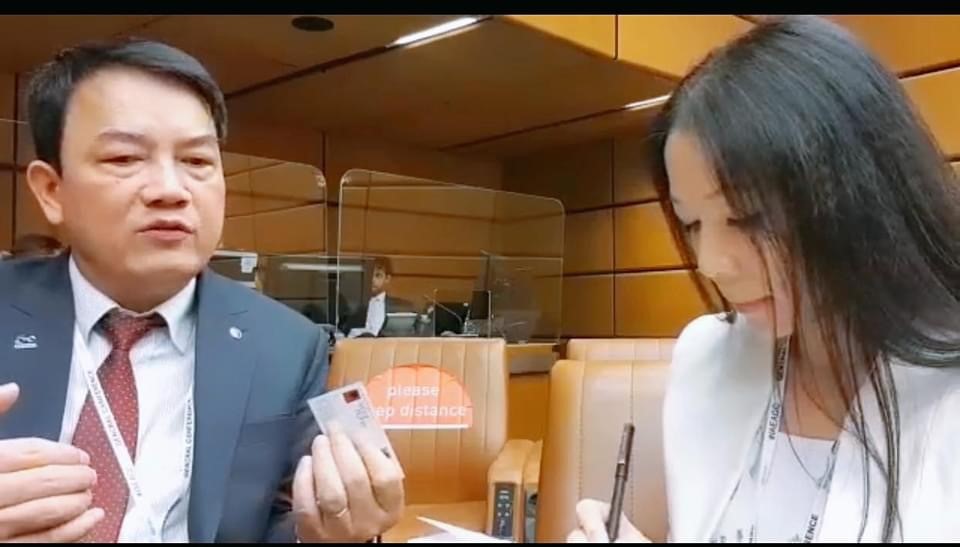 Dr Yen Platz (right) had an interview with Dr.Tran Chi Thanh in the UN in Vienna (9/2022)
WAJ: How will the IAEA's Technical Cooperation Program (TC) for the period 2022-2023, which focuses on areas such as epidemic response, cancer treatment, sustainable agricultural development, promoting safety, security, and response to nuclear incidents benefit to Vietnam?
Vietnam is also familiar with nuclear science, and we have a very powerful force in this industry. We have also developed quantum oscillation applications for many years. In the last 20 years, Vietnam has also developed nuclear energy. The project began in 2010 but it was suspended in 2016. However, with such preparations, our human resources began to increase. Nuclear science and technology in Vietnam is also quite strong, which is good, but there is a concern about the coldness. We need to both ensure safety and provide radiation for treatment. Da Lat provided 90% treatment nutrients of cancer for the entire country because it could not be imported from abroad, whereas previously only 30-40% were provided.
The previous five nuclear projects are also very traditional. They were focusing on how to implement efficiency and good results. There are numerous nuclear power plants near Vietnam's border with China. We will build more floating atomic plants on the sea in the near future; it will be risky, but we won't be able to do anything if we don't understand. Of course, I don't believe it will be a big deal, and if it is leaked, it will be bad for us. All factories were forced to close due to the radiation leak, although the incident had no environmental impact. A low leak is fine, but we must be prepared for contingency plans.
We focus on nuclear medicine because Vietnam currently has a very high cancer rate; 180,000 people are diagnosed with cancer each year, and the cure rate for cancer is very low in comparison to the rest of the world. Because we are further along in development than other countries, they are able to cure 6% - 7% while we are only 3% - 4%. That is not a good outcome. Therefore, we must boost the production of radioactive isotopes. There are hundreds of radioactive isotopes that can be used to cure various types of cancer, but due to labor constraints, we can only do ten types. Vietnam is working on a project to construct a new nuclear power plant that will tenfold the number of radioactive isotopes. 
It will be built in Dong Nai, about 70 kilometers from Saigon. The application of nutrients is a lengthy process. Because we produce them which are the isotopes, and then attach them to the carrier to transform it into a tablet, which is then tested. They will be clinical trials and then we will apply to the Ministry of Health for a license before they can be used, so if we have 10 types that will be increased to 50 types, it is a long way to implement. Medicine is a major environmental concern. These five projects are important, but we need to push the results even higher, which is nothing new.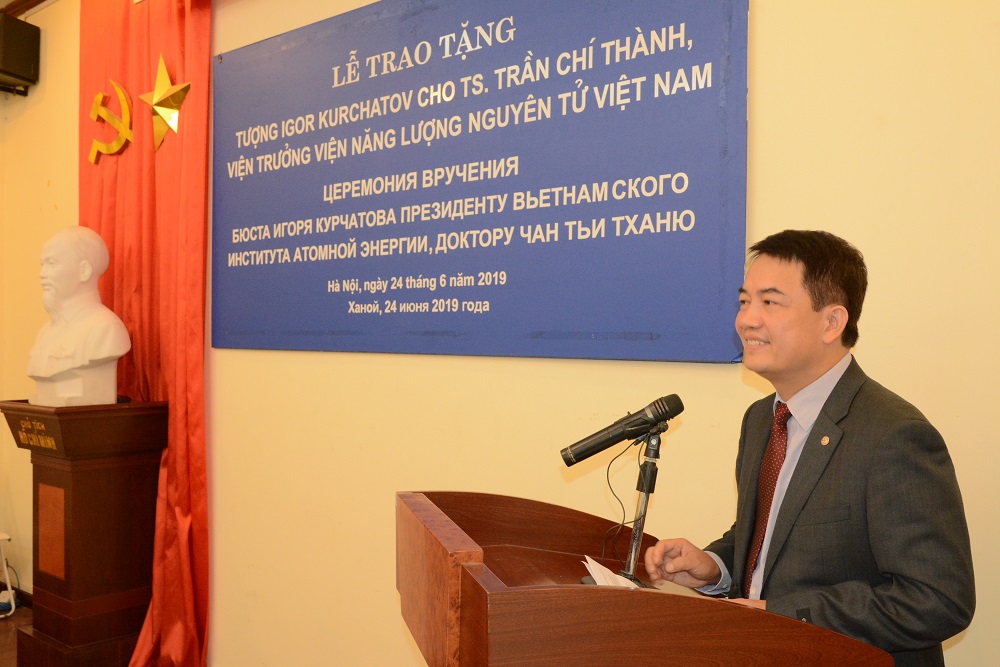 Dr.Tran Chi Thanh, Director of the Vietnam Institute of Atomic Energy, Ministry of Science and Technology of Vietnam.
WAJ: When being asked about the way how to use the old nuclear plant? The reporter mentioned this because when the nuclear power plant for research named Zwentendorf  was built, Chancellor Bruno Kreisky voted to allow it to operate, but before 30 minutes the Austrian public, particularly the press public, 55% of whom disagreed, he had to stop the operation. Zwentendorf later became an exhibition. It now becomes a place of European icons. It was not to use research on May 25th. They created a memory around that symbol. People debated many issues with that Prime Minister, but after that incident, he was elected and then re-elected for the longest 14 years in history.
The old nuclear power plants will continue to function normally for the next ten, fifteen, or twenty years, but once we have a new plant, it will be used for training and then as an exhibition. It should not be dismantled, but rather cleaned up and turned into an exhibition, in my opinion. These new plants will be used to bring applied nuclear technology to life, and they will be research nuclear plants which are similar to many other nuclear power plants used for research around the world. They are extremely safe and have no problems. They are all nuclear power plants, including Fukushima, whereas ours are small research facilities.
WAJ: Could you tell us more about how the IAEA has provided equipment, biological products, and organized training courses on the use of nuclear technology to carry out RT-PCR tests to assist Vietnam in diagnosing and detecting sars-cov-2 virus early, thereby contributing to the recent covid-19 outbreak?
Vietnam also expressed gratitude to the IAEA for its support in Covid-related equipment. This is a great effort by President of National Assembly Vuong Dinh Hue and Ambassador Nguyen Trung Kien on this issue, so the IAEA has been very supportive of us on this, and we are very grateful.
In recent years, the IAEA has also assisted itself greatly in terms of human resource training, qualifications, or consultancy regarding the construction of new research nuclear power plants, with the assistance of IAEA experts such as site selection, how to respond to technology, safety assessments, experiences, where to sudy, or if we invite the world's leading experts to do training, and the IAEA did it. Vietnam thanks the IAEA for this. Ambassador Nguyen Trung Kien also worked hard to improve cooperation with the International Atomic Energy Agency.
Laos and Cambodia have recently lagged behind in terms of nuclear science and technology development, so the IAEA intends to dispatch Vietnamese officials and our capacity to assist Laos and Cambodia in developing this field. Tomorrow, we will have an event between IAEA, Vietnam, Laos and IAEA, VN, Cambodia together to support further development of nuclear science and technology.
Turning to the Austrian story, nuclear power is a political issue in which populism and science coexist, and we can't listen to people's opinions because some don't understand. However, how they use it politically will be crucial. If they believe in science, they will do things that benefit science and ensure safety; if they only want to serve the people, that's another story; it's irrelevant.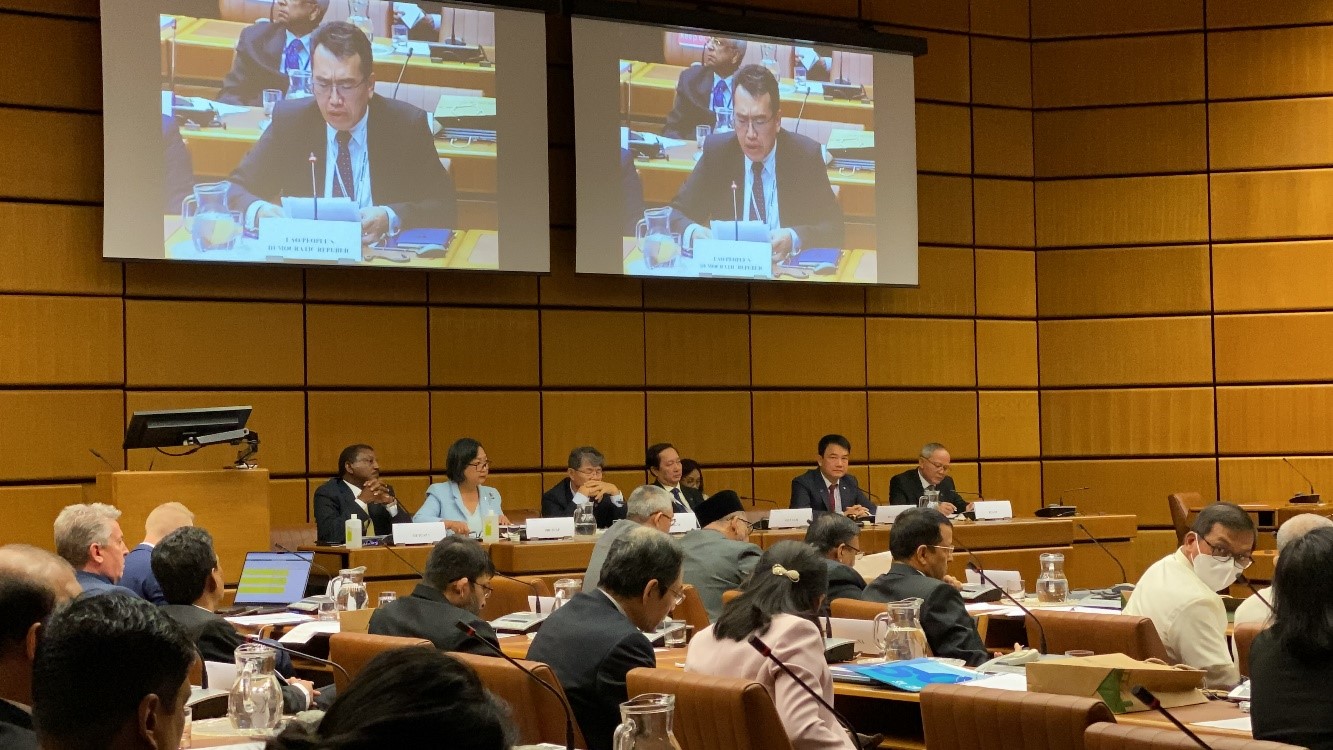 Minister of Science and Technology Huynh Thanh Dat  and Dr Tran Chi Thanh moderated the RCA 50th Anniversary Reception Celebration, in UN in Vienna
WAJ: I had a chance to have an interview with former General Director of IAEA, Yukiya Amano at the World Policy Conference (2011), who specifically stated at the time that the IAEA would be willing to assist Vietnam in building a nuclear power plant in Ninh Thuan, so how is this work progressing now?
When Mr. Amano was a Director, he traveled to Vietnam and then to Da Lat, where he visited the nuclear power plant. At that time, Vietnam was collaborating with Russia on the nuclear power plant, Ninh Thuan 1 and with Japan on the nuclear power plant, Ninh Thuan 2. However, the National Assembly of Vietnam adopted a policy to phase out nuclear power plants in 2016, so there is nothing new so far. However, Mr. Amano's arrival was very positive for the work.
WAJ: How will Vietnam use nuclear technology in interdisciplinary fields such as health, industry, and agriculture?
From my perspective, it is very clear that it is a cancer treatment diagnosis. Nuclear techniques are used in industry as non-destructive nuclear, using gamma rays to check the quality of equipment and works, assessing the potential for equipment failure, and assessing equipment failures of industrial plants such as oil refineries and thermal power plants.
All of this could be accomplished with nuclear technology. In agriculture, we irradiate to quarantine and export a variety of products that we can sterilize with light rays to prevent strange insects from breeding abroad.
Alternatively, we can use those rays to create new radioactively mutated varieties. A genetic mutation is a biological process that results in the creation of a new variety, whereas a radioactive mutation is expected to stimulate the creation of a new variety.
So that's a precaution. Radioactive mutations have resulted in the current products. ST25, for example, has been created and bred for many generations, and applied for soybeans is an another example. Nuclear science is used in the environment to assess marine pollution, the environment, and groundwater.
Thus, nuclear power is most valued in four areas: medicine, industry, agriculture, and environmental resources.
WAJ: The IAEA values Vietnam's role as the current Chairman in Regional Cooperation Agreement (RCA) on nuclear technology development, particularly training and  building capacity for Laos and Cambodia through the trilateral cooperation program between Vietnam, the IAEA, and these countries. How will Vietnam carry on this responsibility in the future?
Vietnam will keep boosting these trilateral cooperation. The International Atomic Energy Agency (IAEA) is also very supportive, particularly in terms of funding for projects. Vietnam has built a nondestructive capacity assessment center to assist Laos in assessing nondestructive capacity. Laos still wants to use radiation therapy to treat cancer, and capacity must be built. If they want to treat with nutrients, as in Da Lat, Vietnam is willing to help. Da Lat has also provided nutrients to Cambodia for cancer treatment, albeit in small amounts, but it has already been done. Cambodia would also like to promote the use of irradiation technology for export. Cambodia has also recently implemented a project. That is, they want to establish a nuclear energy research institute, and Vietnam is collaborating with them to develop a long-term strategy for atomic energy development in Cambodia.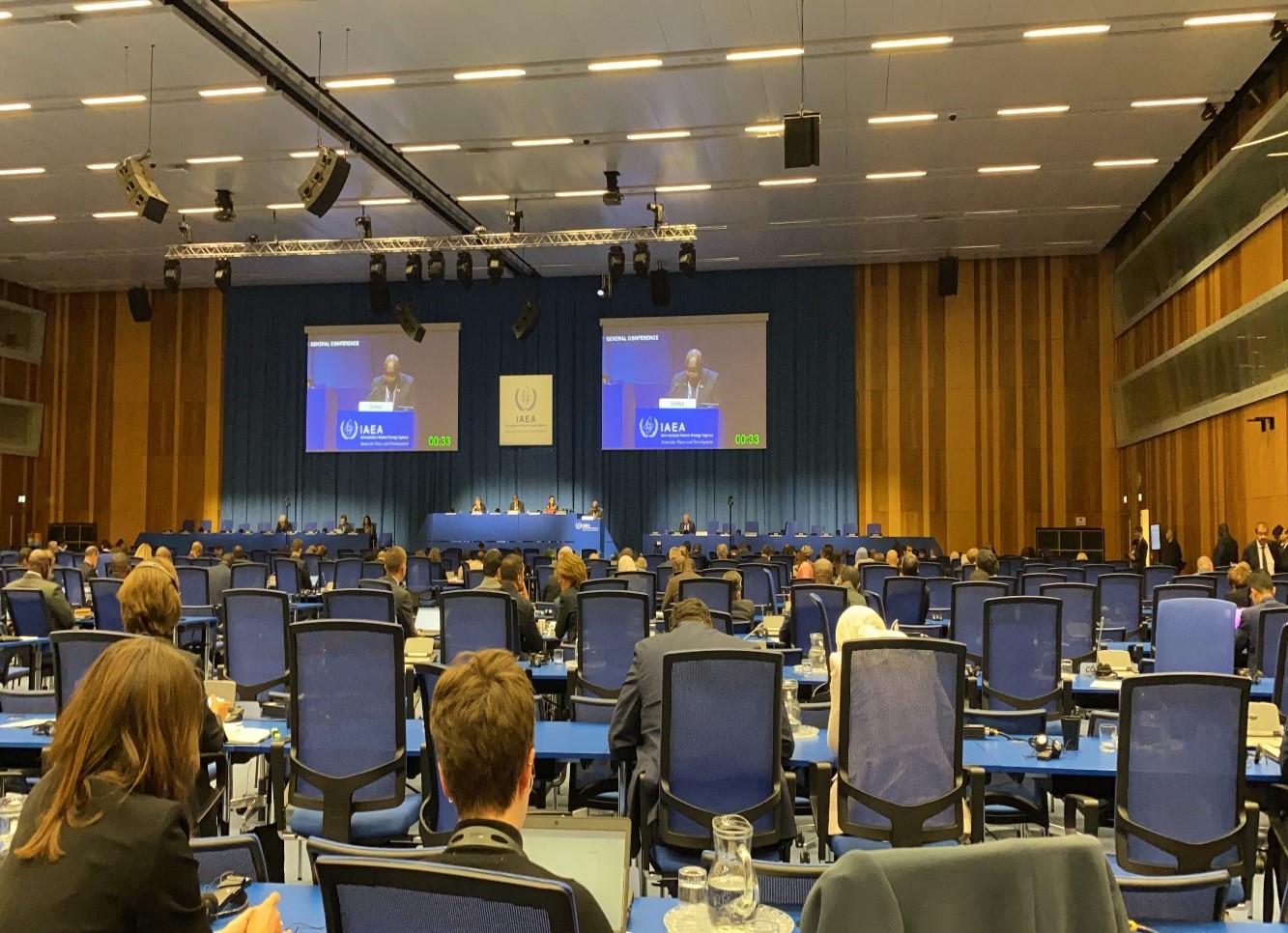 66th Annual General Conference at the United Nations in Vienna
WAJ: The IAEA believes that nuclear technology research is for the purpose of global peace; in light of Europe's current serious energy crisis, what is your take on this IAEA's noble purpose?
I work in nuclear energy safety. That is my area of expertise. In the context of climate change and CO2 balance, I believe nuclear energy will be a wise investment in the future. Vietnam is also considering nuclear energy, but that decision is up to the country's leaders, and we are merely technology consultants or scientists. We are responsible for accurately assessing the project's safety, technical issues, and implementation capabilities; and the decision is made by the leaders.
We appreciate your efforts to raise public awareness of the critical issues surrounding nuclear energy research. We, like the rest of the world, hope that the dignity of scientists like you will enable the IAEA's noble purpose to be realized in the future.
For more information about the 66th Annual Conference of IAEA, please  visit the link: https://www.iaea.org/gc-archives/gc
Thank you very much.
This interview was conducted at UN in Vienna, Austria
Writer To Hoai is famous for his book De Men Adventure Ky (1941) written for children. Currently, "Crickets" have traveled all over the world. The story has been translated into many languages and published in many countries around the world. He is likened to the Andersen of Vietnam.
WAJ
At first glance, she doesn't stand out when standing next to her Asian girls, I become more and more in the middle European women. Yet, people like look at you, especially like to peek, every time you say, or every time she laughs. Asian-style face Dong, round black eyes that can talk, the corner of his mouth when also fresh. Long, silky black hair, clear voice, Standard and flexible pronunciation even when I speak the language German and Vietnamese.
WAJ
READ MORE