"The relationship between Vietnam and Hungary is always dependent on the efforts of Vietnamese individuals here to bridge the gap. Entrepreneur Pham Ngoc Chu is also a vital bridge, not only in the business sector, but also in sports, society, and many other important sectors." stated Szatmáry Kristóf, Chairman of the Hungary-Vietnam Friendship Parliamentary Group in the Hungarian National Assembly.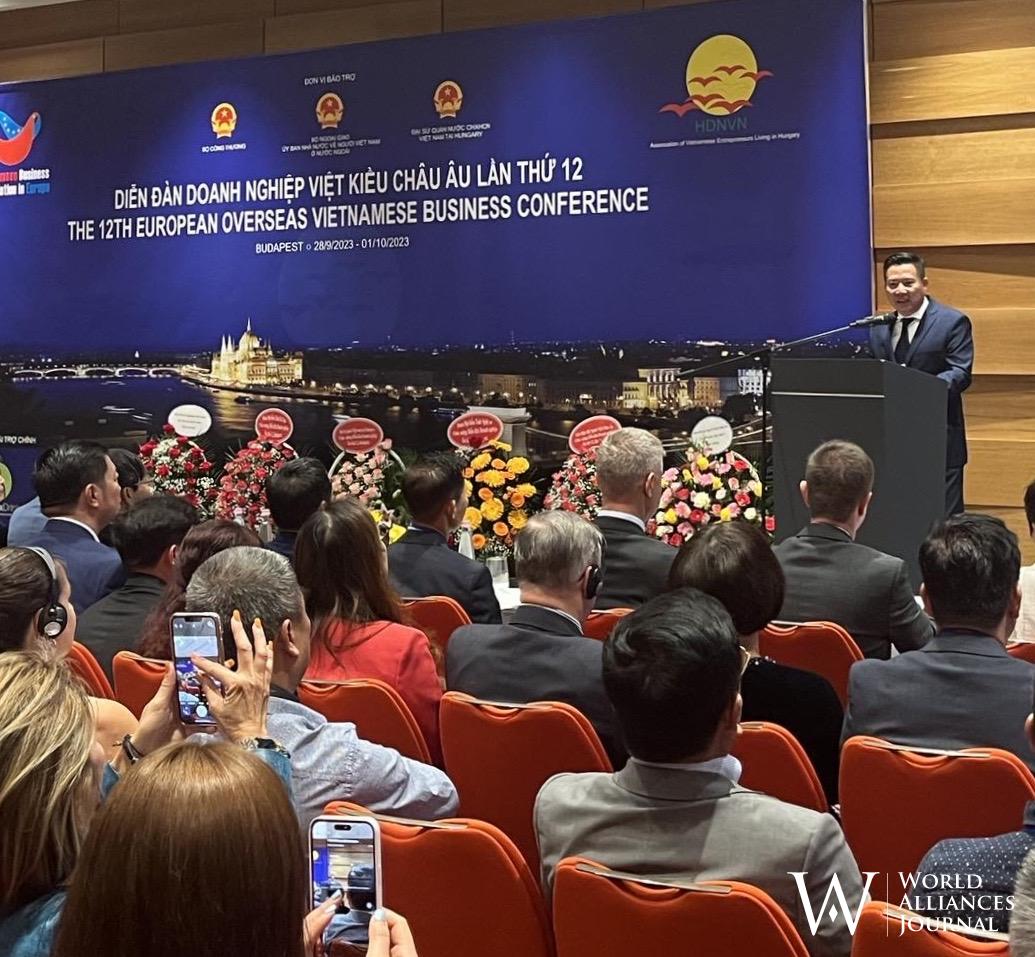 Entrepreneur Pham Ngoc Chu, Head of Organizing committee and Board of Chairmen  ``The 12th Overseas Vietnamese Business Conference`` (29th Sep-1st Oct, 2023 in Budapest, Hungary)
Dr. Yen Platz: "Mr. Pham Ngoc Chu, in 2023, Hungary will host the 12th Overseas Vietnamese Business Conference, could you maybe share some results the Conference has achieved at this time as the Chairman of the Organising Committee and President of the Vietnamese Entrepreneurs Association in Hungary?"
Chairman Pham Ngoc Chu: Hungary is hosting the 12th European Overseas Vietnamese Business Conference for the third time. This year's forum, the 12th, is the biggest ever. Nearly 400 businesses from all over the world attended the conference, including representatives from Europe, the United States, Australia, Israel, and approximately 150 businesses from Vietnam. The Vietnamese government also deployed two province leaders and a large number of specialised officials from the Ministry of Industry and Trade. This underlines the value of the conference. It was a success, and we discussed a number of critical problems, including: (1)Giving advice to organisations as they approach the era of digital technology revolution. (2)Finding ways to get more Vietnamese exports into the European market. (3)The most noteworthy achievement was that it functioned as a key bridge for entrepreneurs from the East, West, North, and South hemispheres to meet (particularly during a period of global market disruptions caused by the Covid-19 pandemic and the Russia-Ukraine war).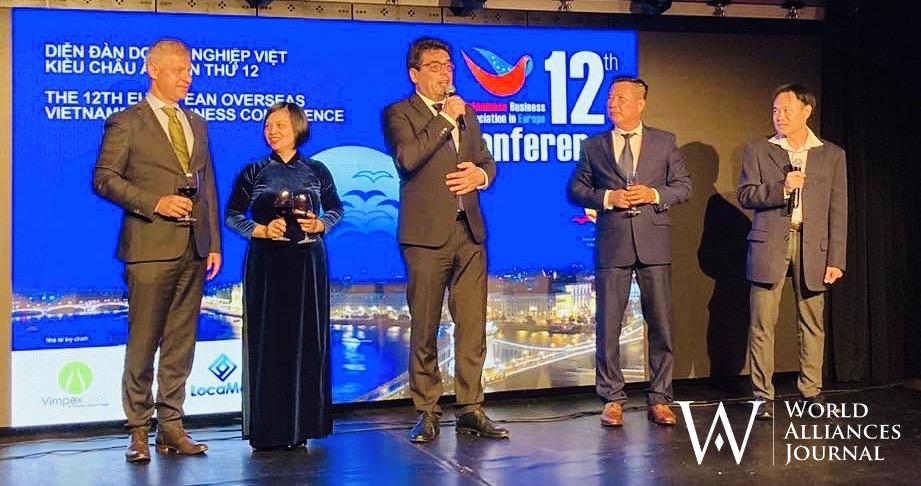 Representatives of the two countries, Vietnam and Hungary, Ambassador Nguyen Thi Bich Thao (Vietnamese Embassy in Hungary), Hungarian Member of Parliament Szatmáry Kristóf, and the Head of the Organizing Committee Pham Ngoc Chu, hosted the Gala Dinner for the 12th European Vietnamese Business Conference.
Dr. Yen Platz: What, in your opinion, were the Conference's strengths and weaknesses this year?
Chairman Pham Ngoc Chu: We successfully used digital technology to build markets, connect enterprises, and facilitate strong trade exchanges between companies this year. However, there were limitations due to the timing constraints. The organising team was only able to reserve two days for the forum over the weekend, on Saturday and Sunday (we had contemplated adding a third day if there were a large number of attendees).
Dr. Yen Platz: How do your foreign friends and politicians perceive the 12th European Overseas Vietnamese Business Conference?
Chairman Pham Ngoc Chu: For numerous reasons, international firms have expressed strong interest in this conference: (1) Due to the shifting global political landscape, several significant corporations have left China and established large-scale operations in Vietnam; (2) Trade turnover between Vietnam and Hungary has expanded dramatically, from 400 million euros four years ago to more than 1 billion euros presently.
Furthermore, many Vietnamese firms and businesses owned by Vietnamese individuals in other nations have lauded the its professionalism and grandeur. Representatives from these companies gave enthusiastic presentations and brought items for show as well as trade links to the exhibition area outside the conference hall.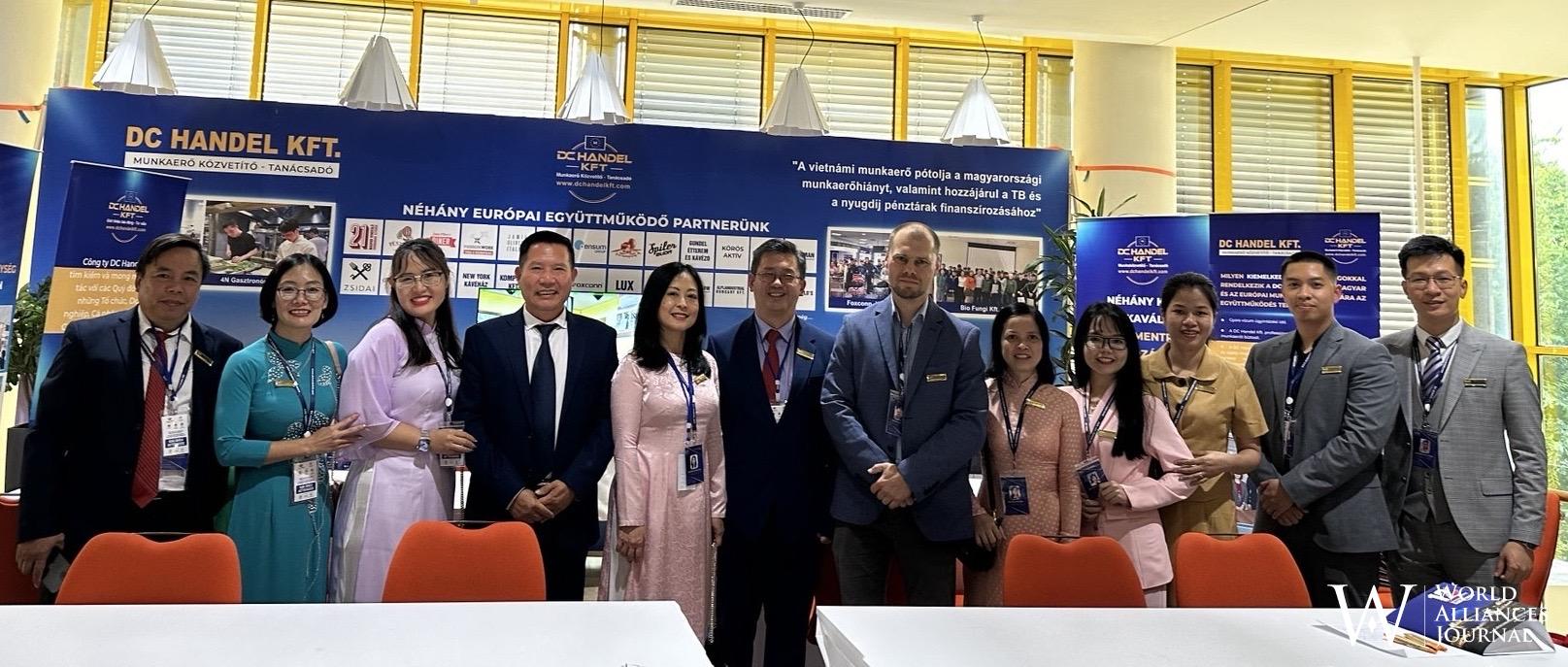 Entrepreneur Pham Ngoc Chu and his associates at DC Handel KFT.
Dr. Yen Platz: We have noticed that the voices of young startup founders have been prioritised in this Conference. What plans does the Vietnamese Entrepreneurs Association in Hungary, as well as the European Federation of Vietnamese Business Associations in general, have for  Vietnamese start-ups to be established in Europe?
Chairman Pham Ngoc Chu: The younger generation must be involved in a developed society. The European Federation of Vietnamese Business Associations (EFVBA) plans to establish a Young Entrepreneur Club and a Development Fund for young business leaders in the near future. We will look for young entrepreneurs who are just starting out and have a promising future to join the Federation. We will also support and help young people on their entrepreneurial journeys in Europe.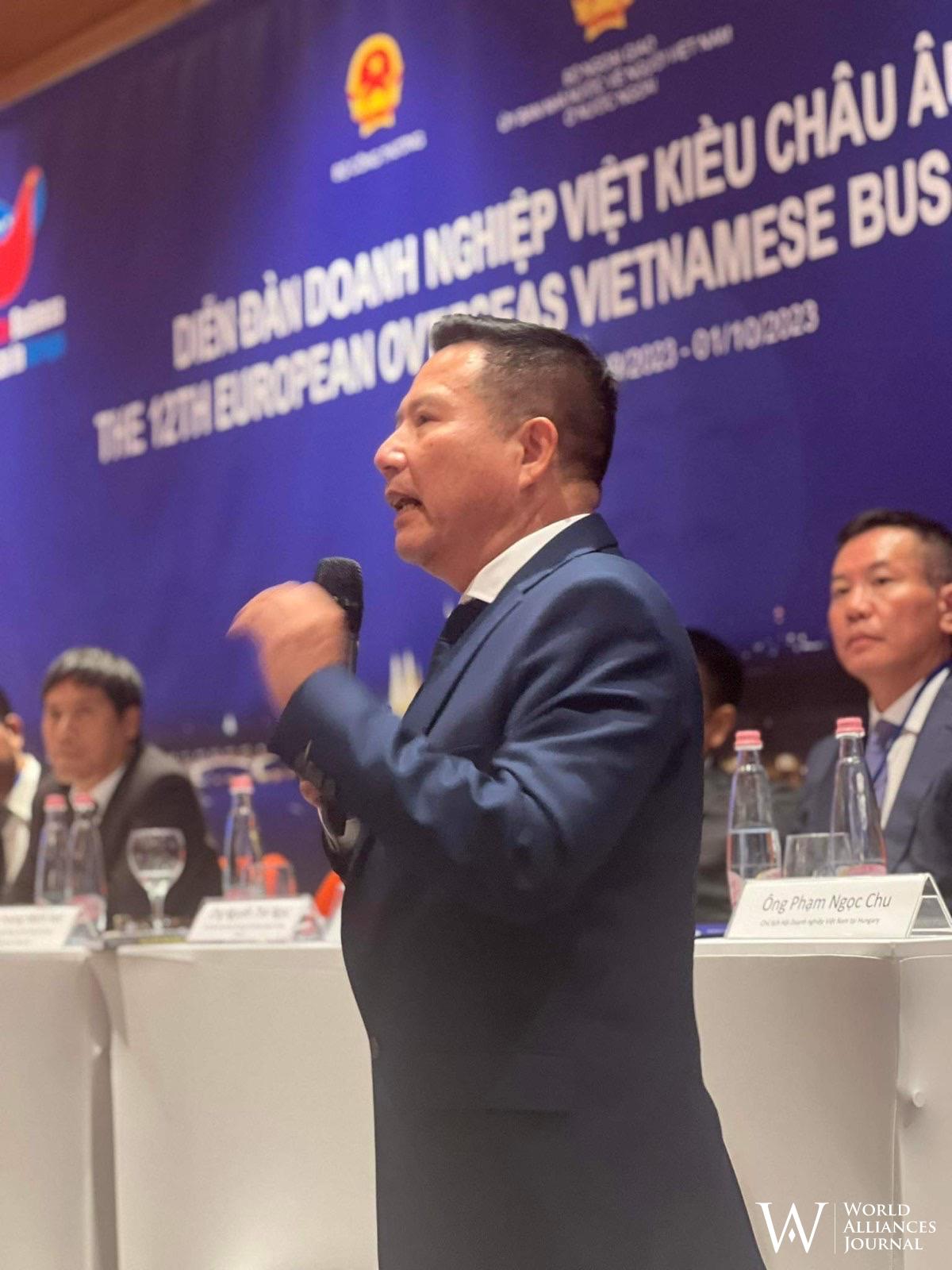 Entrepreneur Pham Ngoc Chu and successful Vietnamese entrepreneurs in Europe are igniting their passion to the younger generation of entrepreneurs at the conference.
Dr. Yen Platz: For the first time, the 12th European Overseas Vietnamese Business Conference expressed concern and interest in the younger generation, the offspring of Vietnamese businesses living overseas. Could you please elaborate on this plan?
Chairman Pham Ngoc Chu: The fundamental objective of the European Federation of Vietnamese Business Associations (EFVBA) in its early years was to UNITE, CONNECT, and INTEGRATE, assisting businesses who had gone far from their homeland to establish their own businesses in Europe. To connect Vietnamese enterprises throughout Europe, we must connect all entrepreneurs from neighbourhoods, states, regions, and countries. This allows us to assist one another in business and life, as well as pass on the spirit to the next generation. We wish to inculcate in them a feeling of duty and consciousness, urging them to build on the successes of their forefathers and contribute to the development of a robust and sustainable economy in their second homeland in Europe.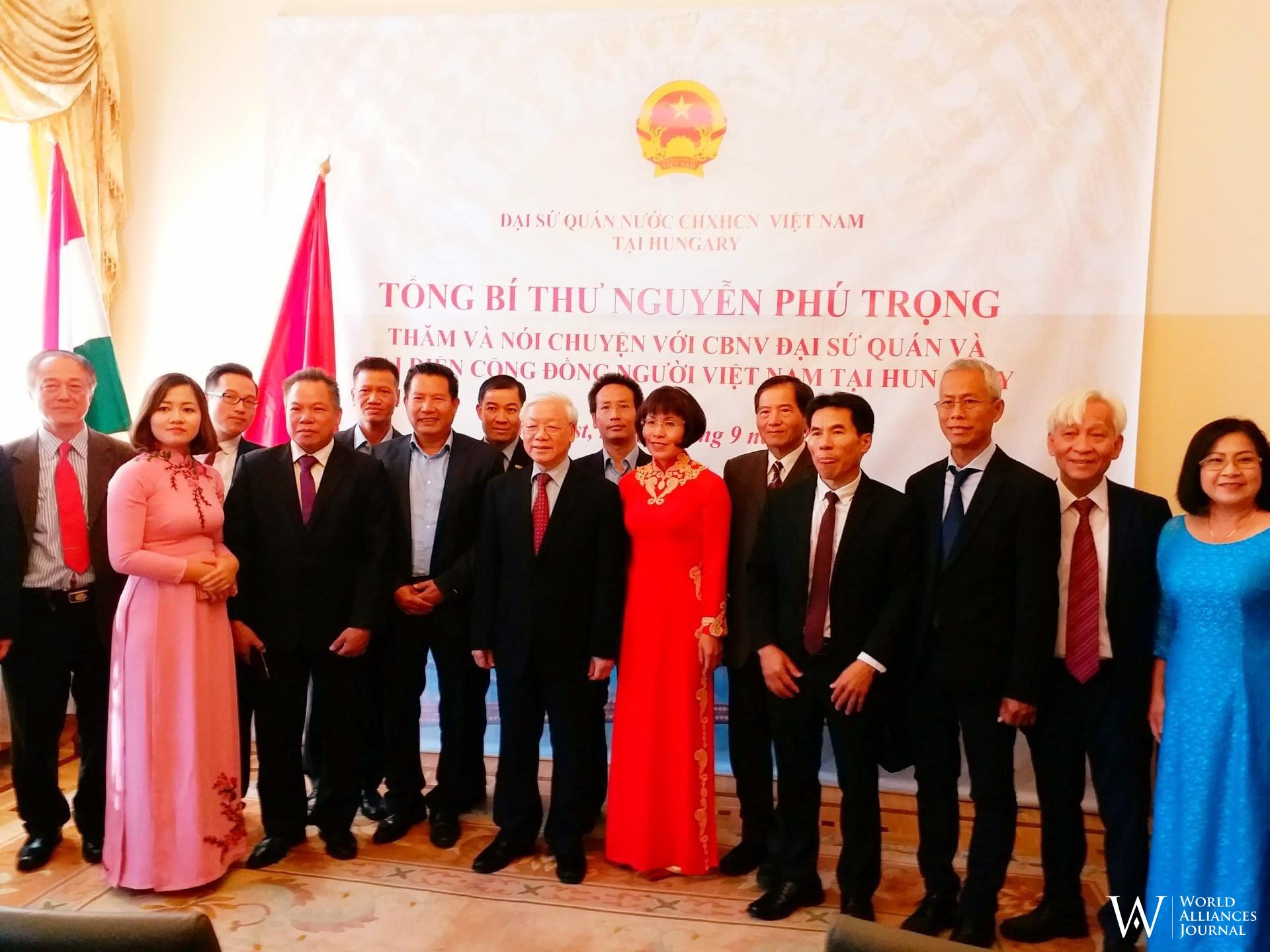 Entrepreneur Pham Ngoc Chu and representatives of the overseas Vietnamese community in Hungary welcomed the President of the Socialist Republic of Vietnam, Nguyen Phu Trong, in 2019
We intend to organise activities such as summer camps, sports competitions, cultural events, and artistic competitions in the near future to provide a platform for the younger generation to bond with one another, connect with their roots, and foster links between Vietnam and international friends in Europe. We believe in the next generation. Please believe in the young Vietnamese entrepreneurs in Europe and throughout the world!
Thank you very much!
Budapest, 8th  October, 2023
Writer To Hoai is famous for his book De Men Adventure Ky (1941) written for children. Currently, "Crickets" have traveled all over the world. The story has been translated into many languages and published in many countries around the world. He is likened to the Andersen of Vietnam.
WAJ
At first glance, she doesn't stand out when standing next to her Asian girls, I become more and more in the middle European women. Yet, people like look at you, especially like to peek, every time you say, or every time she laughs. Asian-style face Dong, round black eyes that can talk, the corner of his mouth when also fresh. Long, silky black hair, clear voice, Standard and flexible pronunciation even when I speak the language German and Vietnamese.
WAJ
READ MORE