Colonel, labour hero Nguyen Dang Giap has fought in battlefields and afterwards entered the commercial world. He spent ten years on foreign missions in Laos before becoming a successful businessman and "modern warrior" in the field of military building in Vietnam. Former President Truong Tan Sang stated, "World Entrepreneur, Asia-Pacific Entrepreneur, labor hero Nguyen Dang Giap is a rare individual".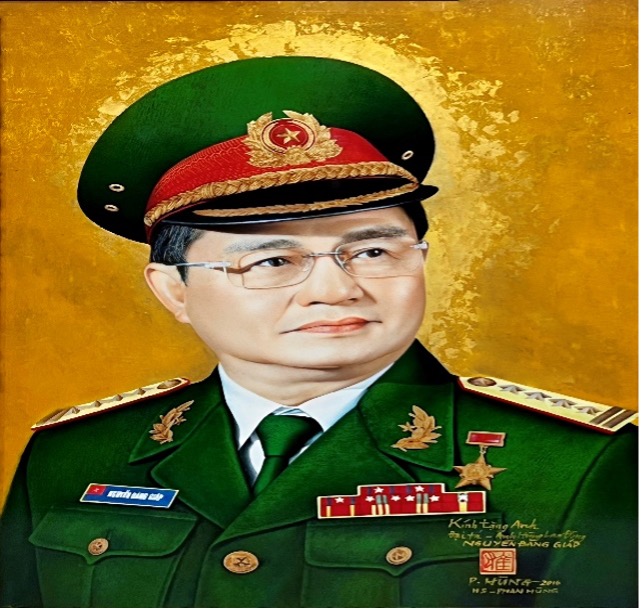 Colonel, labour hero Nguyen Dang Giap, Chairman of 36 Corporation - Ministry of National Defence, Vietnam
WAJ: Colonel, labour hero Nguyen Dang Giap,The Warrior Bach Khoi, once said, "It is not difficult to conquer the world; the difficulty lies in winning people's hearts. It is not difficult to win people's hearts; the difficulty lies in maintaining their loyalty." How did you manage to "win people's hearts" and turn a near-bankrupt organisation into a dominant player in Vietnam's construction industry?
-Colonel, Labor Hero Nguyen Dang Giap: That's a great question! The criteria for being a general are as follows: above the knowledge of astronomy, beneath the understanding of geography, and amidst the comprehension of human nature. When one grasps human nature - the hearts of the people - everything becomes easier. Secondly, the role of a leader is to bring together all forces. The leader must serve as a role model, a guiding leader, who remains humble in victory and undeterred in defeat, unyielding even in the face of adversity. They must have an indomitable spirit, never wavering, even in the face of hardships. They live without fear of life or death.
WAJ: Which is the project that marked a turning point for Corp. 36 and for Colonel Nguyen Dang Giap's life?
-Colonel, Labor Hero Nguyen Dang Giap: I have worked on hundreds of projects not only in Vietnam but also in Laos, but the Mon Son Hydropower Project in 2000 made a lasting impression on me. This was not my first creation, but it reminded me of the Son Tinh and Thuy Tinh conflicts. The initiative gained widespread media coverage and public attention. The project tackled several water-related challenges, including merging security and defence components near the Vietnam-Laos border and conserving the endangered Dan Lai ethnic group. The Ministry of Defence Auditorium project included an exceptional multi-level structural design at the time. It made an indelible mark, and there has been no equivalent modern project since. Furthermore, the Prime Minister's Office construction project, as well as many projects for the Party Central Committee, Vietnam Television, and Military Television, are important. The Mon Son Hydropower Project, on the other hand, has made an impression and not only has long-term worth but also contributes to the architectural landscape.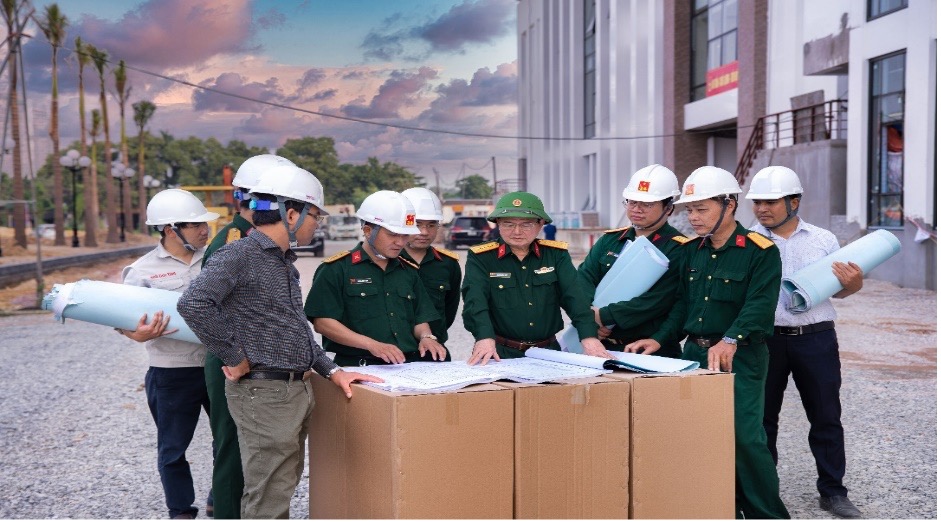 Colonel, Labor Hero Nguyen Dang Giap is surveying the project
WAJ: The public has little regard for architectural design and many development projects that have altered Vietnam's natural landscape today. What are your opinions on this?
-Colonel, Labor Hero Nguyen Dang Giap: Vietnamese citizens, particularly those who have a real passion for their nation and nature, bear responsibility for protecting the natural landscape. We have a specific obligation as citizens, particularly as members of the construction business. Any architectural design that disturbs the natural landscape is a betrayal of our country and our forefathers.
Vietnam's S-shaped land has left a valuable legacy, and it is the obligation of future generations to maintain it. We must oppose any ideology that threatens the natural environment and scenery. Such actions must be condemned. As we recently saw, when House No. 8 on Le Truc Street violated the landscape of the Ba Dinh neighbourhood, the state was forced to take decisive action to correct the situation.
WAJ: We believe that we have partially understood the deep sentiments and hearts of those soldiers who have created special projects with a focus on environmental landscapes, which can potentially become legacies for future generations. Colonel, you once said, "Once the fire is ignited, it will burn to the end." Could you please share your insights on the development strategy of Corp.36 in the future?
-Colonel, Labor Hero Nguyen Dang Giap: Gaining political power is difficult, but maintaining and expanding that authority is even more difficult. The approaching September 23rd marks 20 years since I acquired the role of Director of Construction Corp. 36 and helped to its growth into a prominent defence firm in Vietnam. I must add that protecting Corp.36's strong brand has been critical, not only domestically but also internationally.
WAJ: Can you please explain more about the meaning of the name Corp.36?
-Colonel, Labor Hero Nguyen Dang Giap: The enterprise brand "36" is associated with military economic activities, having previously been involved in the construction of Noi Bai Airport. The word "36" corresponds with auspicious feng shui, indicating success and money, which is why I believe this brand is becoming more popular. "We will reach the places that need us!" says the slogan.
WAJ: When we reflect on the history of our predecessors, we can imagine the connection between the "36 stratagems" of Sun Tzu and the "36 stratagems" of Corp. 36 - representing the strategies of the soldiers and the achievements of the labor hero Nguyen Dang Giap. There may be similarities between them. Some members of the press have compared you to a "master general" who possesses both literary and martial skills in peacetime. What are your thoughts on this?
-Colonel, Labor Hero Nguyen Dang Giap: In reality, I dare not claim to be a "master general" in peacetime. Instead, people often attribute the positive reputation of Corp. 36 to the projects we have left in the hearts of the people. As for being "well-versed in both literary and martial arts," it refers to my literary works and poetry. The corporate culture that I have cultivated serves primarily for the operations of the company. Secondly, it aims to spread the corporate culture, initially within the military and now nationwide, so that we can consistently witness the development and widespread dissemination of the corporate culture, effectively conveying the brand of Company 36 to the public both domestically and internationally.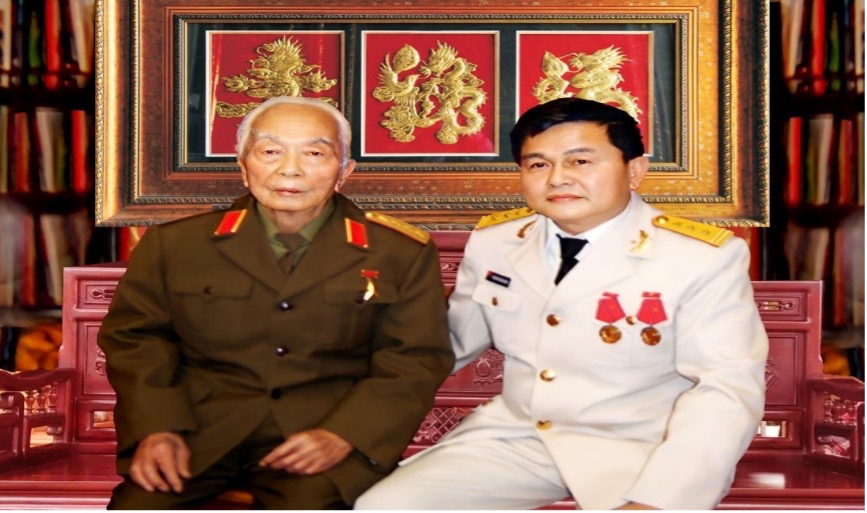 Colonel, Labor Hero Nguyen Dang Giap (R) and General Vo Nguyen Giap (2006)
WAJ: Which literary qualities have an influence on the leadership decisions within the company?
-Colonel, Labor Hero Nguyen Dang Giap: Literature has an impact since the 13th Party Congress declared that culture is on par with economics, politics, and society. As a result, literature in particular, and culture in general, play critical roles. "Literature is the mirror of history," as it transmits our ancestors' traditions to current and future generations. Similarly, to how Corp. 36, which began as a military unit, achieved its purpose of integrating economic and defence components, it now serves the country and the people by becoming a public corporation, allowing future generations to continue establishing a sustainable brand.
WAJ: How tradition of your family affect to your career?
-Colonel, Labor Hero Nguyen Dang Giap: Family is the cell of society, and my family has been my support source throughout my life. On a deeper level, the family is the cradle, where family traditions arouse patriotism and promote creative thinking. It is the fundamental principle that allows each individual to grow and develop on a daily basis. We all see our families as our rock.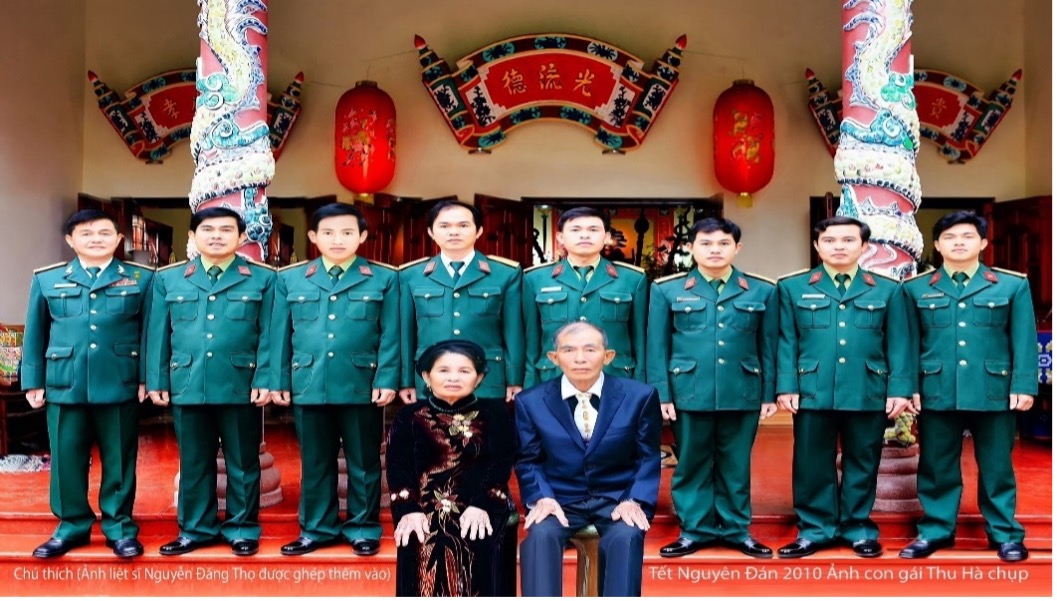 Colonel, Labor Hero Nguyen Dang Giap (the 1st on the left) and his family. Colonel Giap is the eldest in a family of 8 brothers who are all officers in the Vietnam People's Army (in which, his third brother is a martyr).
WAJ: "The project lies within the hearts of the people." you have been a six-time winner of the Asia Pacific Entrepreneurship Award and the World Entrepreneurship Award. So, what is the aspect that Corp. 36 takes the most pride in and can be introduced to international friends?
-Colonel, Labor Hero Nguyen Dang Giap: We not only build long-term projects in Vietnam and Laos, but the most sustainable initiatives are those constructed with the hearts of the people. Let me use the B6 Building in Giang Vo as an example. Nobody else could have done what Corp 36 has done in the last 12 years. It accounts for only 1% of total residential block development in Hanoi, and such an accomplishment would not have been feasible without the people's support and service. Furthermore, we conduct initiatives in rural and underprivileged places, such as hydropower plants and roads, with the goal of benefiting the people rather than profit. The local community always supports Corp. 36 wherever it goes. There are even streets in Nghe An province called "Street 48," although the locals call them "Street 36" or "Work No. 6." I feel that the projects we conduct are actually intended to have an influence on people's hearts. Corp 36 believes that deeds speak louder than words. While most firms prioritise their own interests, Corp 36 prioritises individual satisfaction. "Wealth is like dust, but righteousness is priceless," and we consider ourselves worthy of the army for the sake of the nation, the people, and, most importantly, the people's welfare.
WAJ: Some overseas Vietnamese have shared that they have read the memoir" As I have lived (Như tôi đã sống)" consisting of thousands of pages written by the you, and they were deeply moved. They particularly appreciated the poems you wrote about homeland, country, family, and friends. Could you please share a few lines of a poem close to your heart for those who are far away?
-Colonel, Labor Hero Nguyen Dang Giap: My poetry collection is rather substantial, and one poem may have achieved the uncommon accomplishment of being successfully adapted from a memoir titled "As I Have Lived" (issued by the Military Publishing House). It has a quality similar to "Steel That Defines Me," in that it draws inspiration from real-life occurrences. My poetry is not about "dreaming with the moon and floating with the clouds," but rather about encapsulating and exposing the realities of existence.
Living and fighting against the hardships
Now I'm even more proud to see my beautiful homeland
Standing in front of Lam river to keep the oath
A deep oath that never fades
Having been traveling over 30 countries
Experiencing a difficult and glorious life across the five continents
When old age comes, we know where to go
Even so, I still keep straight from my heart
If in another world I can be human
I  firmly maintain a steadfast heart
Being a boy with great will
Facing difficulties and hardships, building great career, few can compare
Entrepreneur, bright mind - perseverance
"Integrity - Kindness - Loyalty"
Echoing the title of Hero
The long and difficult road can't stop me.
WAJ: The monarch once questioned the famed Chinese poet Khuat Ngyenn, "Your poetry is excellent?" "There are three types of poetry, one written for the gods, one written for people/humanity, and one written for yourself, and I just write for myself". Khuat Nguyen responded, So, who do you write for?
-Colonel, Labor Hero Nguyen Dang Giap: My poetry is very simple. Firstly, it serves to alleviate the tasks of a businessmab and a military officer, while also portraying myself as a poet, catering to the entrepreneurial class and those with an entrepreneurial spirit, especially those living abroad. As I come from Nghệ An and now reside in Hanoi, my poetry serves as a diary, documenting all the regions and places I have traveled to and stayed in, capturing the essence of my life (as a personal endeavor).
I am extremely moved by our brief discussion and would like to offer my gratitude to the overseas Vietnamese community as well as other community members worldwide. We have faith in the Vietnamese people, who have carved their names into the S-shaped map. The obligation of today's young Vietnamese, wherever they may be, is to prove themselves as proud descendants, to demonstrate the spirit of the Vietnamese people, and to take pride in being Vietnamese citizens when they carry a Vietnamese passport.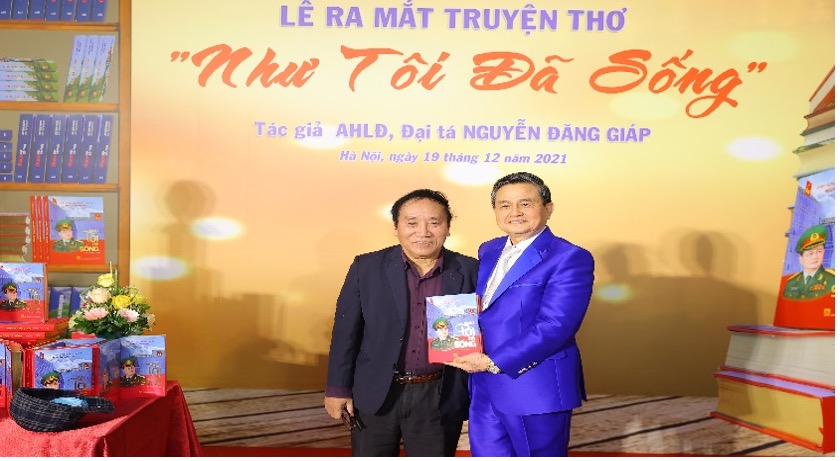 Colonel, Labor Hero Nguyen Dang Giap (R) and Poet Tran Dang Khoa (he was known as a Vietnamese child prodigy when he was young)
WAJ: Could you please deliver a message to the Vietnamese young generation all over the world?
-Colonel, Labor Hero Nguyen Dang Giap: I'd like to emphasise the value of entrepreneurship, especially in today's difficult environment for young entrepreneurs. TCT 36 has been actively involved in the development of startup programmes and activities. We feel that our organisation acts as a model for people both in our country and around the world. I have personally experienced the road of starting from a small unit with a debt of 34 billion VND and taking on projects that many larger military firms were hesitant to take on. We have developed a strong brand via focused training and a passionate workforce. TCT 36 is a great model for young entrepreneurs to follow. Our company is a living example of how theoretical knowledge and practical implementation may coexist.
WAJ: Thank you very much! I wish you and your company continued growth, prosperity, and to always be a source of pride for the Vietnamese people over the world.
Developing from a military enterprise, with a history of more than 27 years of construction and development, now 36 Corporation - Hero Unit is a multi-purpose contractor with full financial and technical capacity, human resources as well as management experience for investment and construction of civil and industrial, traffic, irrigation, hydropower works, infrastructure works, real estate projects, leveling ground, installation of air-conditioning systems, elevators, escalators, design consultancy...which require high skill and fine art in the country and in the region.
With tireless dedication, over the years, 36 Corporation has been awarded many awards and noble titles by the State: the title of Hero of Labor; 01 First-class Labor Medal, 02 Second-class Labor Medals, of which 01 Second-class Labor Medal awarded by Lao PDR, 08 Third-class Labor Medals, many certificates of merit from the Prime Minister, Golden Cup "Typical Enterprise of Vietnam", Golden Cup of Brands, Award of Integration and Development Enterprise, Typical Gold ISO, Quality Flag, Gold Medal for High Quality Works. Personally, CEO Nguyen Dang Giap was awarded the title of Labor Hero by the State in 2010, twice honored as World Entrepreneur (in 2018, 2022) and 6 times honored as Asia Pacific Entrepreneur (2017-2022).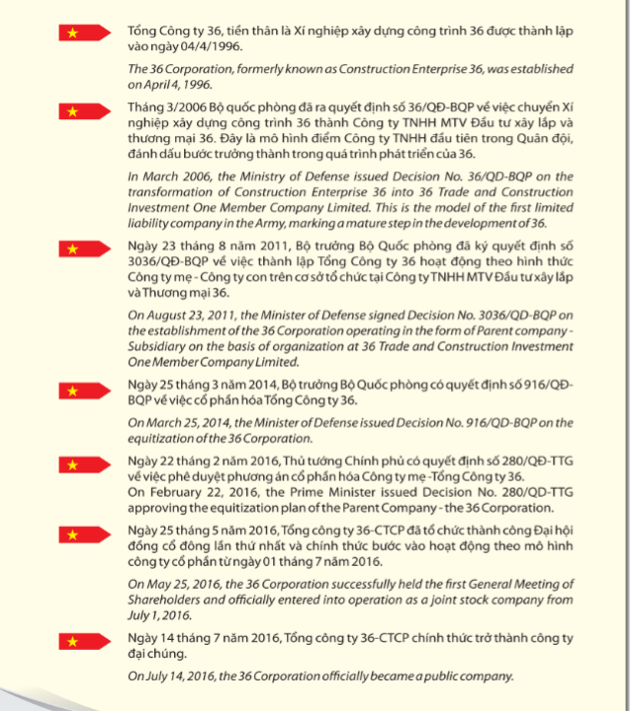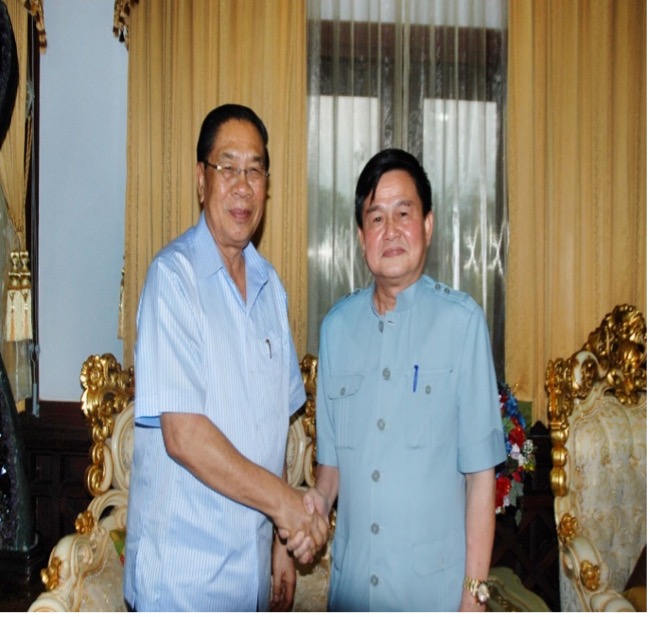 Colonel, Labor Hero Nguyen Dang Giap (Vietnam)(R) and Mr. Choummaly Sayasone, General Secretary of the Central Committee of the Lao People's Revolutionary Party (LPRP) (March 2013)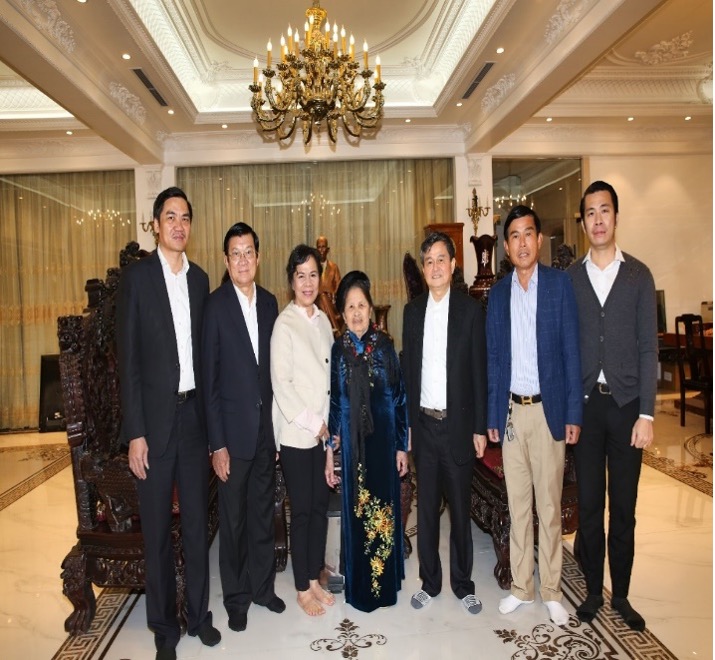 Former President Truong Tan Sang and his spouse (the 2nd, 3rd on the left) visited the mother and family of Colonel, Labor Hero Nguyen Dang Giap (2019)
Hanoi, 11th June, 2023
Dr. Yen Platz (Representative of WAJ at the UN in Vienna) & Editorial Board
PROMOTED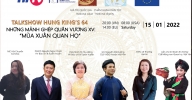 TALKSHOW HUNG KING'S 64: THE MOSAICS OF THE KING XV – THE FOLK SONG FROM BAC NINH "MUA XUAN QUAN HO"
Dr. Yen Platz
Writer To Hoai is famous for his book De Men Adventure Ky (1941) written for children. Currently, "Crickets" have traveled all over the world. The story has been translated into many languages and published in many countries around the world. He is likened to the Andersen of Vietnam.
WAJ
At first glance, she doesn't stand out when standing next to her Asian girls, I become more and more in the middle European women. Yet, people like look at you, especially like to peek, every time you say, or every time she laughs. Asian-style face Dong, round black eyes that can talk, the corner of his mouth when also fresh. Long, silky black hair, clear voice, Standard and flexible pronunciation even when I speak the language German and Vietnamese.
WAJ
READ MORE