Nguyen Van Kinh, a collector of antiquities in Vietnam, is known for owning three national treasures: Kinh Hoa I Bronze Drum, Kinh Hoa Situla, and Kinh Hoa II Bronze Drum. He is actively collaborating with experts to research and document additional artifacts, which he intends to submit for national treasure recognition by Vietnamese authorities. Moreover, Mr. Kinh is deeply committed to preserving ancestral artifacts, preventing them from exporting, and safeguarding them from "bleeding" abroad.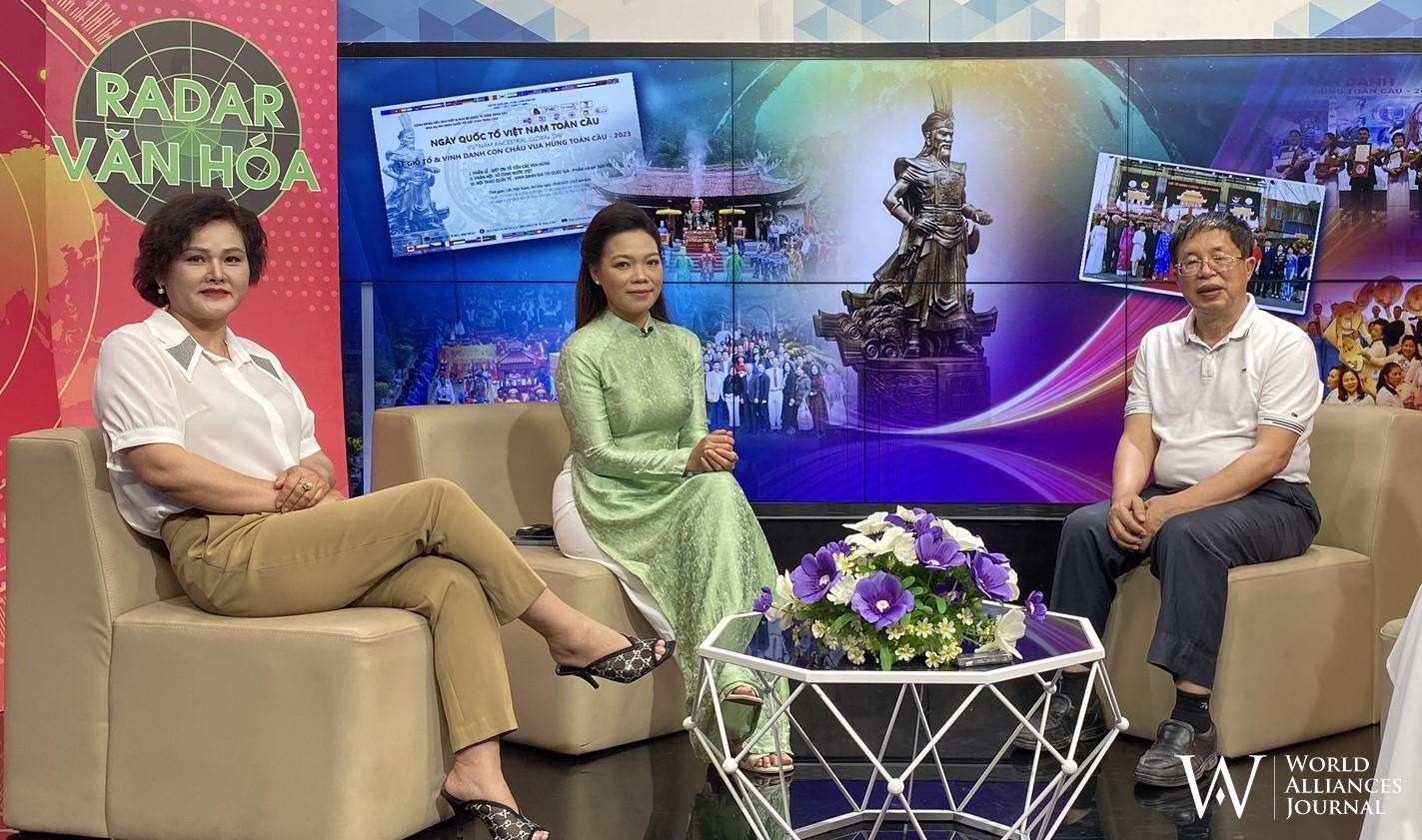 Mr. Nguyen Van Kinh (first from the left) was among the guest speakers during the Radar Cultural Talkshow on VNew. (Photo: WAJ)
Dr. Yen Platz: Could you please share some information about the Heritage Park project that you are planning to implement in Hanoi?
A collector of antiques, Nguyen Van Kinh: In Vietnam, I work as a businessman in Vietnam. Through my commercial activities, I've realized that Hanoi, the capital city, needs a "green lung" and a location for Hanoians to relax and entertain themselves. It particularly lacks job opportunities for those who are from rural areas surrounding the city and are hard-working but encounter obstacles. That is why we want to build something for Hanoi, which is the Heritage Park on Hanoi's outskirts.
Dr. Yen Platz: What is the area of the Heritage Park, and how far is it from the center of Hanoi?
A collector of antiques, Nguyen Van Kinh: The Heritage Park spans across two districts, Dan Phuong and Phuc Tho. It will become a part of the Hanoi metropolitan area in around three years. The 300-hectare project is located next to the old Day River, near Hat Mon Gate, the Hai Ba Trung Temple, and Thay Pagoda. It is around 20 kilometers from Hanoi's center.
Dr. Yen Platz: Why did you choose to collaborate with French architects?
A collector of antiques, Nguyen Van Kinh: Yes, the French architects are individuals who understand Vietnamese culture and people. They have a strong attachment to Vietnam. Regardless of their varied kinds of involvement, they share a strong affinity for Hanoi, Vietnam, and the Vietnamese people. As a result, rather than bringing Western culture into Vietnam, I wish to accomplish that initiative within the expanding Vietnamese culture.
Dr. Yen Platz: This is a somewhat distant question, but are you concerned that the project might inadvertently evoke the colonial period of French colonial rule in Vietnam?
A collector of antiques, Nguyen Van Kinh: The Heritage Park project exists solely to honor the spectacular grandeur of the Vietnamese landscape. It highlights Vietnam's cultural attractiveness without evoking any political issues or past confrontations between the two countries.
Dr. Yen Platz: How is the process for determining a national treasure carried out?
A collector of antiques, Nguyen Van Kinh: The primary condition for an item to be designated as a national treasure is that it be of genuine significance and represent various times in Vietnamese culture. It should have a distinct personality and correspond to the requirements for national treasures outlined in Vietnamese heritage laws.
Dr. Yen Platz: Will the artifacts you have diligently collected be shown at the Heritage Park Project in the future?
A collector of antiques, Nguyen Van Kinh: There are probably close to ten artifacts in our collection that fit the criteria for national treasures. However, we have only gained recognition for three of them as of yet. We'll prepare documentation for the assessment of around 4 to 5 things that ought to be recognized as national treasures in the near future. The Heritage Park will house and conserve these national treasures for future generations to enjoy.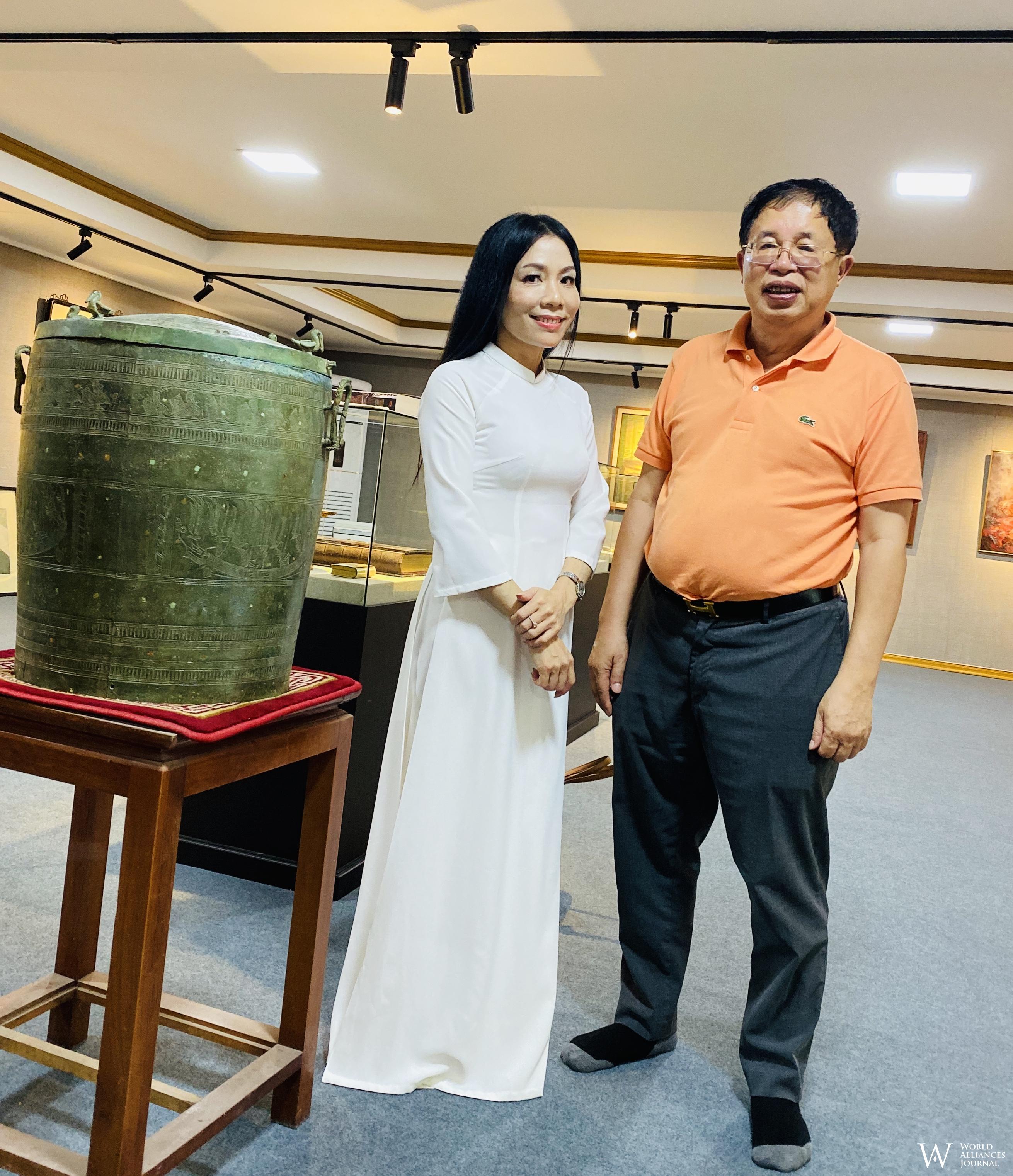 Mr.Nguyen Van Kinh and the author are next to the national treasure, Kinh Hoa Situla. Photo: WAJ
Dr. Yen Platz: How do you and other scientists go about preparing the documentation for seeking national treasure recognition?
A collector of antiques, Nguyen Van Kinh: Perhaps these are the first privately owned treasures to be legally recognized by the state. Our first collection of ancient artifacts took about three years to finish. The expedition was difficult and complicated, but it was also lucky in that the goods were quite expensive. I had no idea how complicated it would be when we initially started. For example, it can take 3 to 4 years to generate documentation for a historical artifact of level 1, 2, or 3. It becomes considerably more difficult if it is for national treasure recognition, particularly for privately owned artifacts (for the first time in Vietnam). It must pass through four committees, from the city-level to the national-level, including the top experts in the field of archaeology in Vietnam. It's a fairly complicated procedure. The object cannot meet the state's criteria if it is not actually valued.
Dr. Yen Platz: I have also witnessed a scientific seminar where there were debates between professors and administrators regarding the bronze drums that you are about to submit to the state. Are such seminars, in your opinion, a common occurrence?
A collector of antiques, Nguyen Van Kinh: To compile a national treasure dossier, numerous rigorous and detailed assessment phases must be completed. Initially, we seek subject-matter experts and specialists to do research papers on specific themes. After collecting these specialized studies, specialists and professors in the appropriate subject analyze whether the item is worthy of national treasure designation. Only then will we begin preparing the papers for state recognition. It is a meticulously rational, scientific, and audited study approach.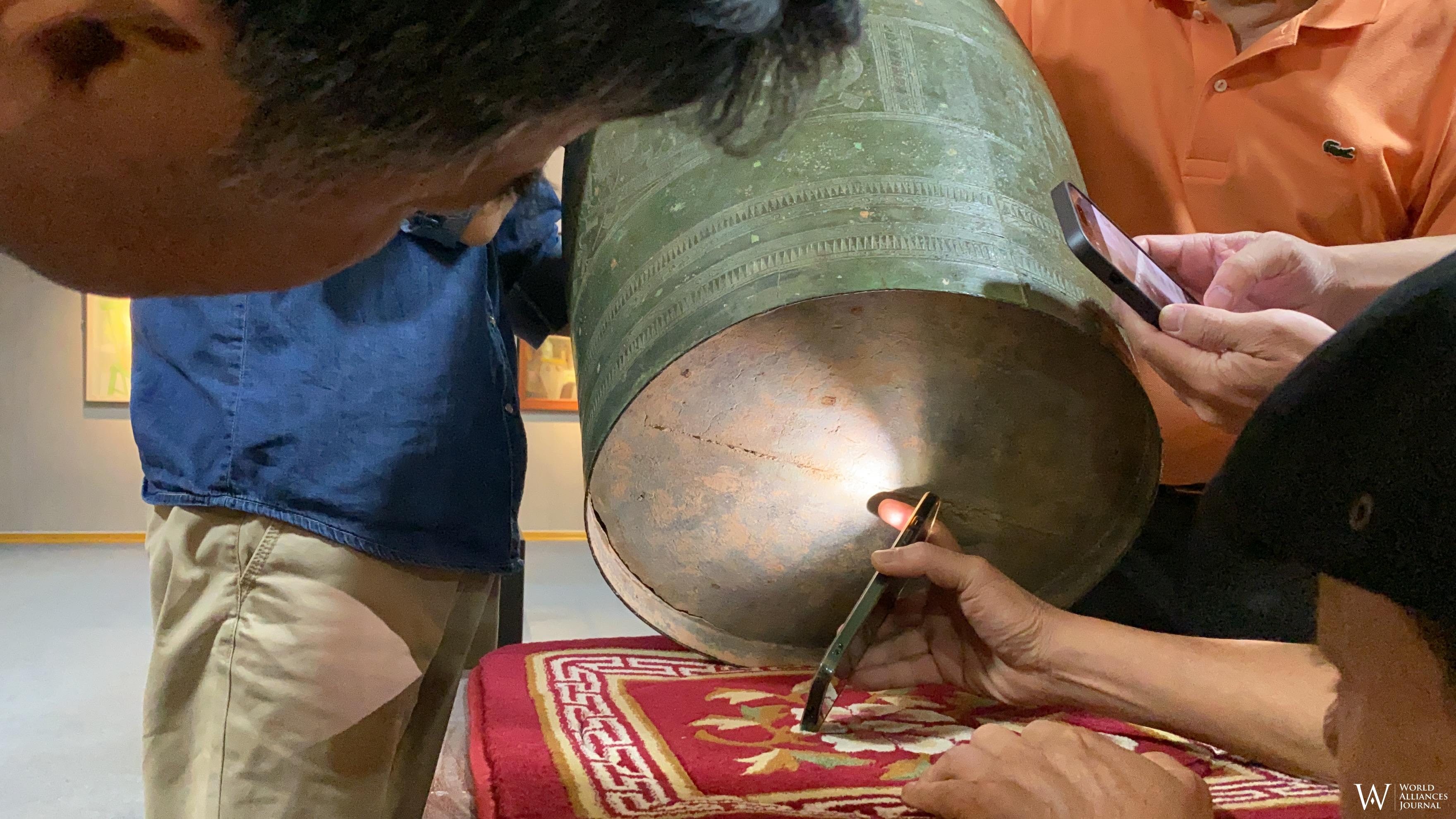 Experts in discussion about the antiques collection of Mr. Nguyen Van Kinh (Photo: WAJ)
Dr. Yen Platz: You earlier stated to the media that your objective is to preserve national assets from a spiritual perspective; can you tell more about that?
A collector of antiques, Nguyen Van Kinh: Indeed, because I am not professionally qualified in this subject, I have collected and maintained national treasures rather by chance. I also didn't have a strong desire to pursue this from the start. However, one day I realized that these were our predecessors' legacies and that every Vietnamese citizen has a responsibility to preserve them and prevent these treasures from being taken abroad. This is accomplished by paying tribute to these treasures and undergoing the proper processes to get them legally recognized by the government. The purpose is to keep these national treasures in Vietnam and prevent them from being moved abroad.
Dr. Yen Platz: Do you think that protecting national treasures is similar to safeguarding the soul of the nation?
A collector of antiques, Nguyen Van Kinh: I think I am a caretaker, tasked with the mission of preserving the treasures left by our forefathers so that future generations can admire them.
Dr. Yen Platz: Many antiquity collectors in other countries are keen to return cultural artifacts to their home countries, including Vietnam. What are your thoughts on this, and are you willing to work with them?
A collector of antiques, Nguyen Van Kinh: Vietnam's cultural artifacts have been fleeing the nation in large numbers. Among the treasures of Vietnam situated overseas or yet to be repatriated, I have to spend money to acquire these artifacts with the intention of turning them into national treasures and preserving them for our country. So, if there is any collaboration that might help preserve our national history, I am eager to participate and fully support it.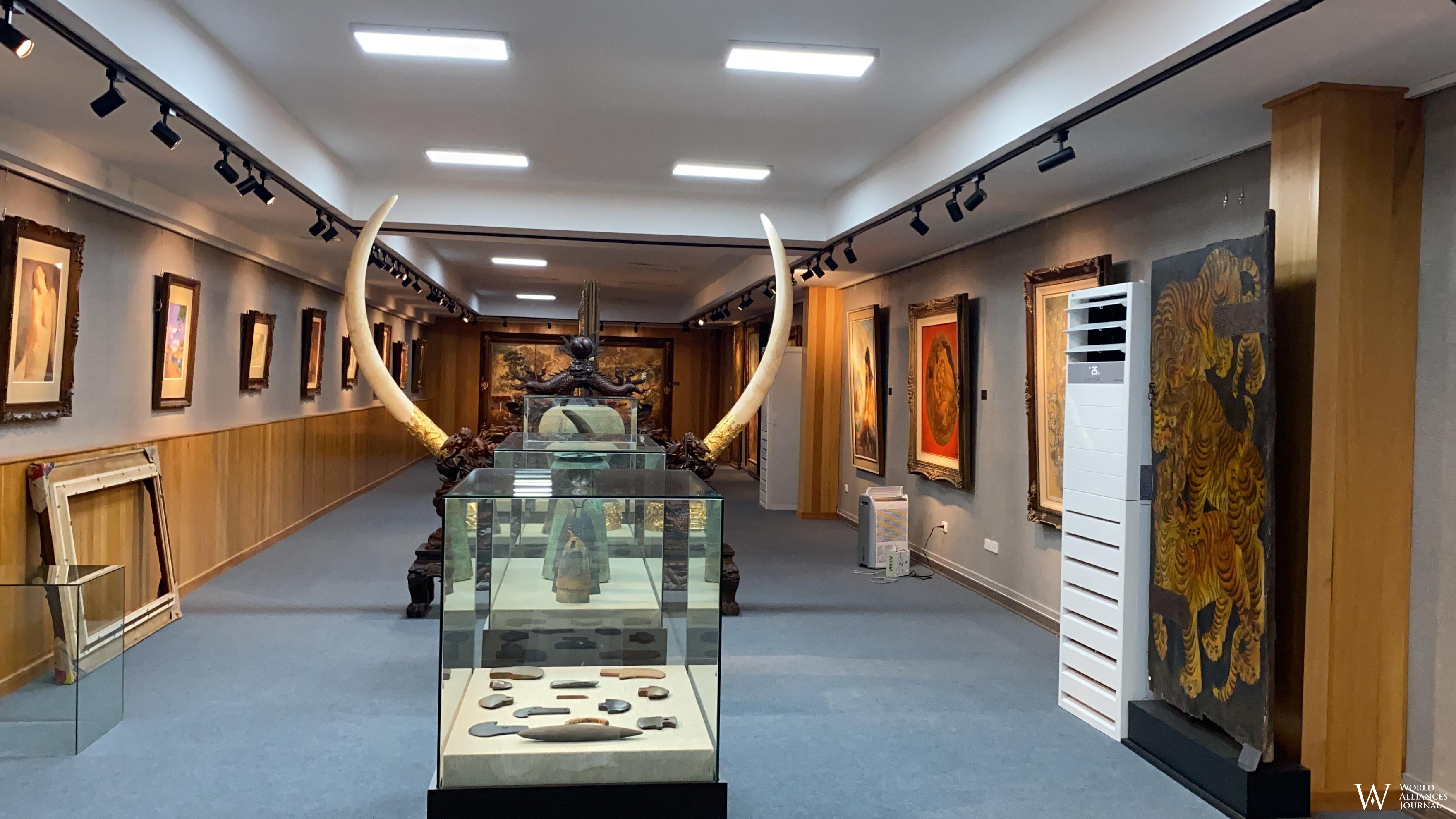 A corner of the museum belongs to the antiques collector, Mr.Nguyen Van Kinh. (Photo: WAJ)
Dr. Yen Platz: You are currently involved in two major projects: gathering national treasures and building the Heritage Park. What messages do you want to convey to future generations?
A collector of antiques, Nguyen Van Kinh: To achieve sustainable growth and do good for current and future generations, a country must first respect its cultural history, show appreciation, and honor our forefathers. Every Vietnamese should be aware of their responsibilities to preserve the legacy bequeathed by their forefathers. Take pride in our predecessors and strive for a better future; work together to preserve Vietnamese culture.
Ha Noi, 24th May 2023
PROMOTED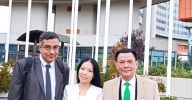 VIENNA/A brief interview with Mr. Ho Huy, CEO of Mai Linh Group and Vice Chairman of ICI International, was conducted in front of the United Nations in Vienna to commemorate the 50th anniversary of diplomatic relations between Austria and Vietnam.
Dr. Yen Platz
Writer To Hoai is famous for his book De Men Adventure Ky (1941) written for children. Currently, "Crickets" have traveled all over the world. The story has been translated into many languages and published in many countries around the world. He is likened to the Andersen of Vietnam.
WAJ
At first glance, she doesn't stand out when standing next to her Asian girls, I become more and more in the middle European women. Yet, people like look at you, especially like to peek, every time you say, or every time she laughs. Asian-style face Dong, round black eyes that can talk, the corner of his mouth when also fresh. Long, silky black hair, clear voice, Standard and flexible pronunciation even when I speak the language German and Vietnamese.
WAJ
READ MORE